Chicken and Oregano Tagliatelle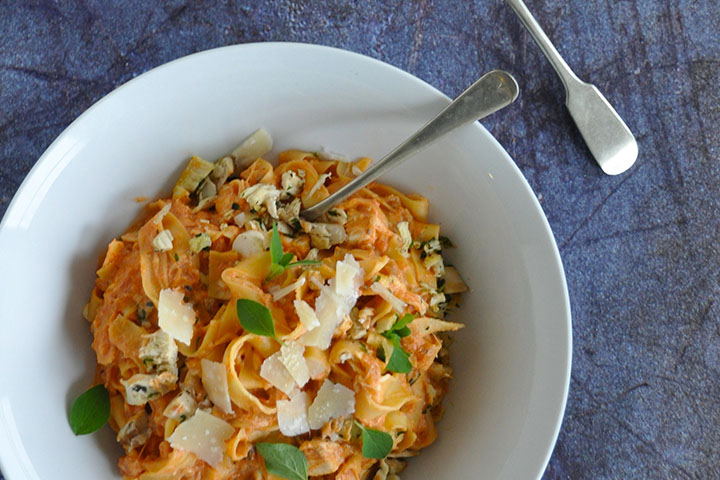 Cooking Time:

30 minutes

Serves:

2/ 3

Allergens:

egg, dairy, wheat
Description
A good quality dried oregano holds its flavour well and is a feature of lots of Italian cooking. This recipe uses Ballymaloe Italian Tomato Pasta Sauce as a base. The addition of Greek yoghurt brings a creamy richness to the dish and coats the chicken really well. Some grated Parmesan and a few torn basil leaves on top and you've the perfect dish.
Ingredients
360g free range chicken breast cut into 2cm x 3cm cubes (leftover roast chicken is also delicious)
1 tbsp olive oil
200g tagliatelle
1 tsp oregano (dried)
250g Greek yoghurt
1 jar (400g) Ballymaloe Italian Tomato Pasta Sauce
25g Mozzarella (grated)
25g Cheddar cheese (grated)
To serve:
A little freshly grated Parmesan and fresh basil leaves
Method
Bring a saucepan of water to the boil adding. Add the tagliatelle and bring back to the boil for 4 minutes.
Remove from the heat with the lid on and leave to sit for 5-6 minutes.
While the pasta is cooking, cube the chicken breasts and place in a bowl, add the olive oil, oregano and a generous pinch of sea salt and freshly cracked black pepper, tossing to coat evenly.
Heat a large frying pan. Sear the chicken pieces and cook until firm to the touch and fully cooked through.
Place on a warm plate to rest while you prepare the sauce.
In another saucepan heat the Ballymaloe Italian Tomato Pasta Sauce. Stir in the Greek yoghurt, making sure the sauce is only simmering, so the yoghurt doesn't split. Sprinkle in the Cheddar and Mozzarella
Stir, taste and add a pinch of sea salt if needed.
Add the warm chicken to your sauce, then add the tagliatelle and stir to coat every strand.
Place generous heaps on to warmed plates and finish with torn basil and a little freshly grated Parmesan.