Halloumi Burger with Sweet Potato Fries and Ballymaloe Original Relish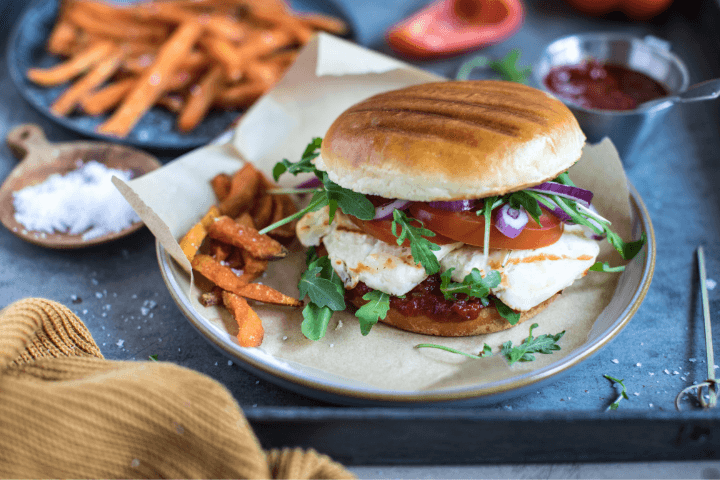 Cooking Time:

20 minutes

Serves:

2

Allergens:

Contains Dairy, contains gluten, contains mustard seeds
Description
This Halloumi Burger is utterly delicious and oh so simple which we adore more! This little charmer can work in every season and climate. It does not take sunshine for this beauty to shine!
Ingredients
2 tbsp. olive oil
200g Halloumi Cheese, thickly sliced
2 Brioche Buns
1/4 red onion
1 large/beef tomato
Handful of Rocket
4 tbsp. of Ballymaloe Original Relish
1 large sweet potato
Dietary Suitability
Contains Dairy
Contains gluten
Contains mustard seeds
Method
To make sweet potato fries, cut your sweet potato into fries, cook in boiling water for 7 minutes. Drain and place in a baking tray with a tbsp of oil and cook for 20 minutes at 200 degrees.
Heat a griddle pan. Brush both sides of the thickly sliced halloumi with oil and place on the heated griddle (a non-stick frying pan is equally as good). Cook until the halloumi is deliciously charred (3 mins each side).
Place the brioche puns on the griddle/nonstick pan for 2 mins or until toasted and golden.
Slather both sides of the brioche bun in Ballymaloe Pepper Relish and top the base with half of the seared halloumi, tomato slices, red onion, and rocket.
Pop on the lid and serve with a side of crunchy sweet potato fries and a dipping bowl of extra Ballymaloe Pepper Relish.