Roast Duck and Ballymaloe Beetroot, Orange & Fennel Salad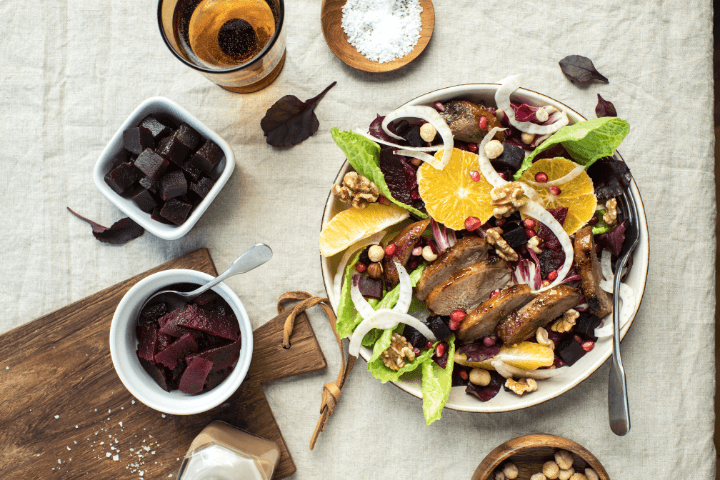 Cooking Time:

1.5 hrs

Serves:

6

Allergens:

contains nuts
Description
This Duck Salad is terrific with warm freshly roasted duck or with leftover duck. It is packed full of complimentary flavours and textures that is a real treat to feast on. A delicious dinner party starter or main!
Ingredients
Whole Roasted Duck (190* for 1-1.5 hrs, juices run clear at thigh)
4/5 oranges- 2 sliced and 2 segmented (free of pith and skin)
150g Drained Ballymaloe Beetroot
1x fennel bulb- trimmed and thinly sliced
3x small cos lettuce – trimmed and halved
4x handfuls mixed leaves (red)
1x ripe pomegranate- seeded and free of pith
200g toasted walnuts
Ballymaloe Balsamic & Irish Apple Cider Vinegrette
Dietary Suitability
Contains nuts
Not suitable for vegetarians
Method
Carve the roasted duck into 6 portions and keep warm.
Use a large platter of 6 individual main course plates.
Using a large bowl, toss the mixed leaves in some Ballymaloe Balsamic & Irish Apple Cider Vinegrette, enough to glisten. Sprinkle on some sea salt and freshly cracked black pepper.
Spread evenly onto your plates/ platter.
Using a pastry brush, brush each half cos with some dressing also and season. Place half on each plate.
Scatter the sliced and segmented orange segments around the salad.
Place the duck in 5 mounds around your plate.
Haphazardly place the fennel, toasted walnuts, drained Ballymaloe Beetroot and pomegranate seeds.
Finally, sprinkle sea salt over the duck and drizzle honey all over.
Serve and enjoy the pops of flavour this salad offers.