Chorizo & Cheese Jambons with Ballymaloe Relish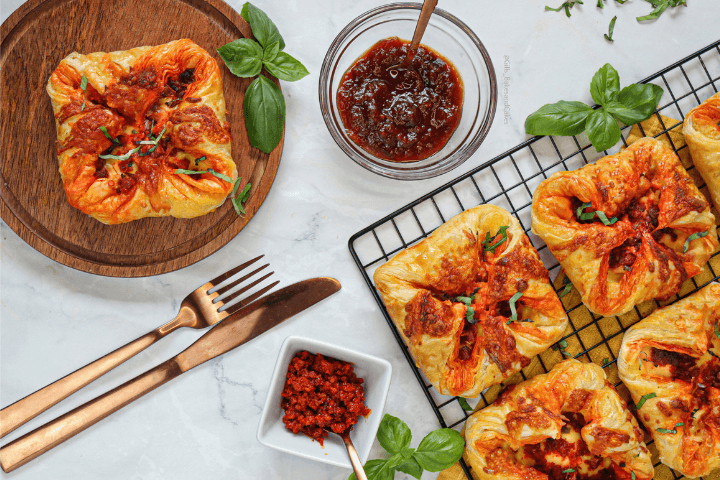 Cooking Time:

50 minutes - Preheat the oven to 200°C/400°F/Gas Mark 6

Serves:

6

Allergens:

Dairy, sulphites, egg
Description
These Chorizo & Cheese Jambons, courtesy of Gills Bakes & Cakes, are a delicious take on the traditional, classic Irish jambon. Quick and easy to make, fill them with anything from cooked chorizo to ham, hot dog sausages, pepperoni or veggies. Thanks to Gill for sharing this delicious jambon recipe. You can find more of Gill's recipes at https://www.gillsbakesandcakes.com/
Ingredients
1 sheet puff pastry
6 tbsp chorizo sausage (diced)
2 handfuls grated cheese
4 tbsp Ballymaloe Original Relish
1 egg, beaten
For your Cheese Sauce:
20g butter
15g plain flour
200g milk
120g Cheddar (grated)
Dietary Suitability
Contains Dairy
Contains Gluten
Contains Sulphites (in meat)
Not Suitable for Vegetarians
Method
Preheat the oven to 200°C/400°F/Gas Mark 6.
Pan-fry the chorizo sausage for a few minutes and then leave it to cool.
To make your cheese sauce, pop your butter in a pan on a medium heat until melted, then mix your flour through. Add in the milk and whisk until you have a sauce that's thick and smooth. Stir in your grated cheese and mix until smooth. Season with salt & pepper, then leave to cool.
To make the base of your jambons, line a baking tray with baking paper.
Roll out your puff pastry sheet and cut into 6 even squares.
Spoon your cheese sauce onto the centre of each square and sprinkle on the cooked chorizo.
Fold the corners of your pastry into the centre to create your jambon shape, then brush the pastry with some beaten egg.
Sprinkle some extra grated Cheddar on top, then bake for 20-25 minutes until golden.
Allow to cool, then serve with a generous side of Ballymaloe Original Relish.