Mediterranean Couscous Salad with Ballymaloe Balsamic & Irish Apple Cider Vinegrette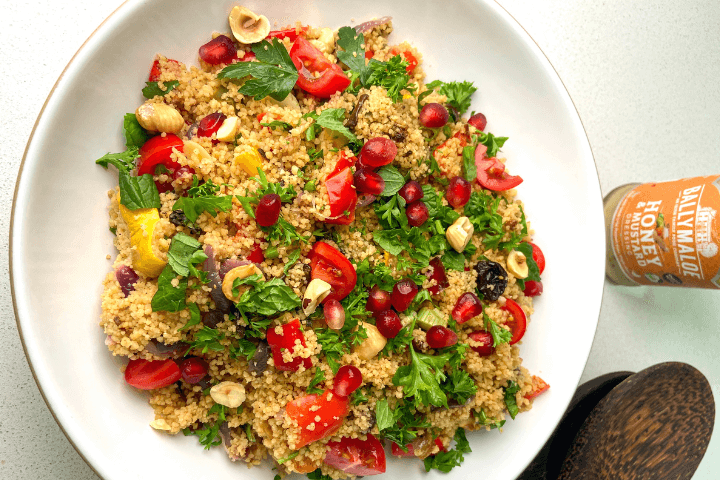 Cooking Time:

30 minutes - Preheat the oven to 200°C/400°F/Gas Mark 6

Serves:

4

Allergens:

Nuts
Description
Full of the flavours of the Med, this couscous salad is an ideal addition to any barbecue or buffet. As a bonus, it can be made the night before as it keeps well overnight. Feel free to add or remove any veggies or nuts from our ingredients listing but – for us – the pomegranate, cranberries and courgettes are a must! Ballymaloe Balsamic & Irish Apple Cider Vinegrette offers a clean, sharp complement to this dish –  so drizzle generously!
Ingredients
1 red pepper
1 yellow pepper
1 aubergine
2 red onions
1 courgette
250g couscous
300ml vegetable stock (hot)
Juice of half a lemon
Seeds from half a pomegranate
25g toasted almonds (flaked)
50g toasted hazelnuts (whole & roughly chopped)
50g dried cranberries/raisins
8 cherry tomatoes (halved)
15g parsley (chopped)
15g mint (chopped)
Salt & freshly-cracked black pepper
Ballymaloe Balsamic & Irish Apple Cider Vinegrette
Dietary Suitability
Dairy free
Suitable for vegetarians
Suitable for vegans
Method
Preheat the oven to 200°C/400°F/Gas Mark 6.
Peel the red onions and cut into wedges. Cut the other vegetables into 2 inch chunks.
Toss the prepared vegetables in a bowl with one tablespoon of olive oil. Lightly season with salt & freshly-cracked black pepper
Pop on to a roasting tray and oven roast for 20-25 minutes until the vegetables are starting to char at the edges.
In a medium saucepan, bring your vegetable stock to the boil. Stir in the couscous, then add 2 teaspoons of Ballymaloe Balsamic & Irish Apple Cider Vinegrette into the water along with the juice of half a lemon. Remove from the heat and cover tightly with a lid and let the couscous steam for 5 minutes. Fluff using a fork.
Once your veggies have cooled, combine everything, including the pomegranate seeds, toasted chopped almonds and hazelnuts, the dried cranberries and/or raisins, a big bunch of chopped parsley and mint, sliced cherry tomatoes and a big drizzle of Ballymaloe Balsamic & Irish Apple Cider Vinegrette!
Stir gently to combine, and place on a large serving platter with a few mint and parsley leaves scattered over the top to garnish.