The Mediterranean Cous Cous Salad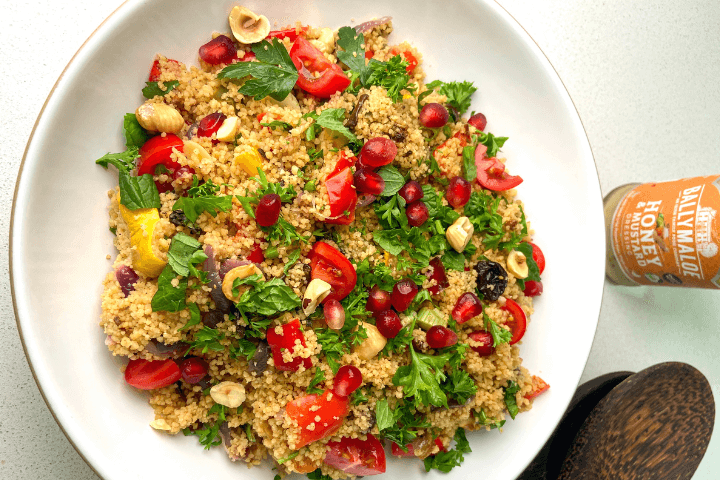 Cooking Time:

30 minutes

Serves:

4/6

Allergens:

Vegetarian, vegan, dairy free.
Description
A great BBQ salad that is better made the night before, so get ahead! This salad keeps very well and is beautifully served cold or warm.
Ingredients
1 Red and 1 Yellow Pepper
1 Aubergine
2 Red onions
1 Courgette
250g Cous cous
300ml Hot vegetable Stock
Ballymaloe Balsamic and Irish Apple Cider Vinaigrette
Juice of half a lemon
Seeds from half a pomegranate
25g Toasted almonds, flaked
50g Toasted hazelnuts, whole and roughly chopped
50g Dried cranberries/ raisins
8 Cherry tomatoes halved
15g Parsley picked and chopped
15g Mint picked and chopped
Dietary Suitability
Dairy free
Suitable for vegetarians
Suitable for vegans
Method
Preheat your oven to 200c.
Peel the red onion and cut into wedges, keeping the root on
Cut the vegetables into 2-inch chunks. Then toss the prepared vegetables in a bowl in one tablespoon of olive oil. Lightly season with salt and pepper.
Pop onto a roasting tray and oven roast for 20-25 minutes until the vegetable is starting to char at the edges.
In a medium saucepan, bring your vegetable stock to the boil. Stir in the couscous add 2 teaspoons of Ballymaloe Balsamic Dressing into the water along with the juice of half a lemon. Remove from the heat and cover tightly with a lid and let the couscous steam for 5 minutes. Fluff using a fork.
Once your veg has cooled, combine everything together along with the pomegranate seeds, toasted chopped almonds and hazelnuts, the dried cranberries/ raisins, a big bunch of chopped parsley and mint, sliced cherry tomatoes and a big drizzle of Ballymaloe Balsamic dressing! Stir gently to combine, and place on a large serving platter with a few mint and parsley leaves scattered over the top to garnish.