Vegan Christmas Wreath Nut Roast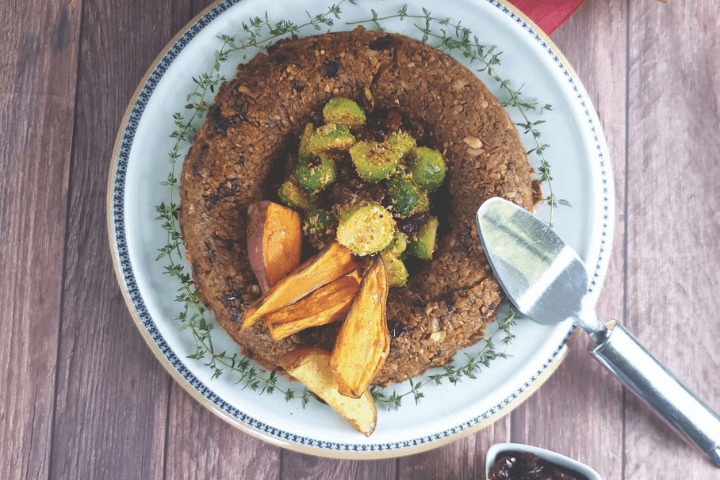 Cooking Time:

1 hour, 10 minutes

Serves:

6/8

Allergens:

nuts
Description
Nut roast has long been a Christmas dinner reliable for vegetarians, but this recipe goes further as all the ingredients are vegan friendly. In less than an hour and half you'll have a delicious festive dish that can adorn any Christmas dinner table.
Ingredients
300g Mixed nuts (finely chopped or roughly ground - almonds, cashew, hazelnuts, walnuts, pecans, brazil nuts)
1 Vegan-friendly vegetable stock cube & ½ pint of water
50g Red lentils
3 Tablespoons extra virgin olive oil
1 Onion (peeled and finely chopped)
2 Celery sticks (finely chopped)
1 Small leek (finely chopped)
3 Carrots (peeled and finely chopped)
1 Parsnip (peeled and finely chopped)
2 Cloves of garlic (crushed)
25g Milled flax seeds
4 Tablespoons of cashew butter
3 oz Dried cranberries
Zest of 1 lemon
Zest of 1 orange
1/2 teaspoons of smoked paprika
1/2 teaspoons of cayenne pepper
Salt and pepper
Accompaniments:
Small bunch of fresh thyme sprigs
Crispy Brussels sprouts
Rustic roast potato and sweet potato wedges
Ballymaloe Original Relish or Ballymaloe Cranberry Sauce
Apple Sauce
You'll also need a ring garland tin (9") / bundt tin / 6"-8" round tin / loaf tin
Parchment paper
Method
Preheat your oven to 180⁰C (conventional setting). Line your ring garland tin with parchment.
In a small saucepan, cook the lentils for 20 minutes in a half pint of water, with the vegetable stock cube, stirring continuously. You are waiting for the lentils to be fully cooked and the vegetable stock to be fully absorbed by the lentils. Once ready, set aside.
In a wide, high-sided frying pan heat the olive oil gently and add in the finely chopped vegetables: onion, celery, leek, carrot, parsnip, and crushed garlic.
Season and stir often as it will sweat down and cook through; this takes roughly 8 minutes.
In a large bowl add the finely chopped mixed nuts, flax seeds, lemon and orange zest, cranberries, cashew nut butter, cooked red lentils and finely sweated vegetables. If the vegetables are still hot, use a wooden spoon to beat the mixture together.
Taste the raw mix and ensure you are happy with the seasoning (remember cooking the lentils in the vegetable stock intensifies the overall flavour so your base may not need extra seasoning).
Pack the mixture into your lined tin, place into the preheated oven at 180oC on the conventional setting and cover in a sheet of parchment - this is to prevent too much colour or drying of the outer skin.
Bake for 25 minutes, then remove the parchment and continue to bake for a further 15 minutes. Skewer to ensure it is cooked through.
Once you have achieved a rich brown colour, remove from the oven and allow to cool on a wire rack for 10 minutes then, very carefully, turn onto a serving platter.
Place your warmed serving platter on top of the nut wreath in its tin, take a tea towel and wrap it around the plate and the tin, ensure you have a really good grip, turn upside down and set down gently.
Remove the tin carefully, then smoothly peel back the parchment.
Serve with rustic roast potato and sweet potato wedges and a side of crispy chilli and paprika Brussels sprouts.
Place the crispy sprouts in the centre of your festive garland and use any crispy crumb that may be left on the tray. Drape one side with your rustic roast potatoes. Finish by surrounding the garland with fresh sprigs of thyme.