Warm Black Pudding, Apple, and Walnut Salad.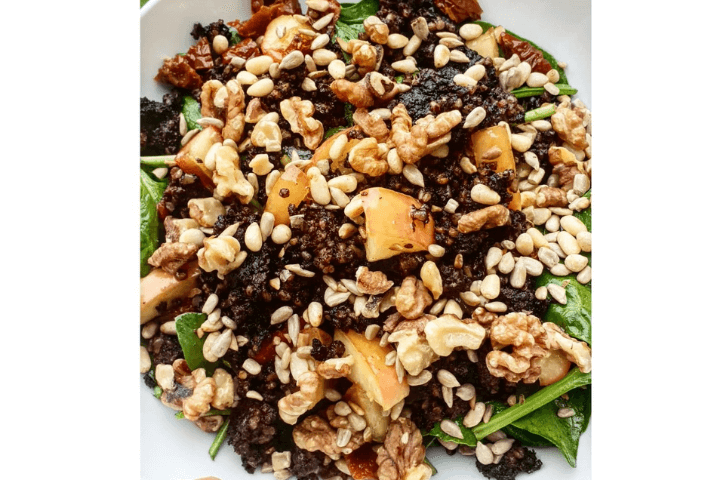 Cooking Time:

20 minutes

Serves:

2

Allergens:

Contains nuts.
Description
This salad turns into a crowd-pleasing starter for a dinner party or as a simply delicious lunch.
Ingredients
60g chopped walnuts
2 tbsp. sunflower seeds
2 tbsp. pine nuts
150g black pudding (Clonakilty make a terrific gluten-free pudding)
1 tsp rapeseed oil
1 pink lady apple, chopped into bitesize pieces
1 tbsp. butter
1 tbsp. honey
4 sun dried tomatoes drained and finely chopped
125g spinach leaves
3 tsp Ballymaloe Balsamic and Irish Apple Cider Vinaigrette
Dietary Suitability
Contains nuts
Suitable for coeliac
Method
Heat a non-stick frying pan on medium. Toast the walnuts, seeds, and pine nuts until gently toasted. Set aside.
In the same frying pan, melt the butter and add the honey. Toss in the prepared apple pieces and cook for 4 mins until softened and still holding their shape. Remove to a plate using a slotted spoon and keep all the yummy juices in a bowl. Add Ballymaloe Balsamic and Apple Irish Cider vinaigrette to bowl and stir to combine, taste and season if necessary.
In another non-stick frying pan heat a little rapeseed oil on a medium heat and crumble in the black pudding. Cook the pudding until crispy.
In a separate bowl toss the spinach with the dressing and place on 2 serving plates.
Sprinkle over the crispy black pudding, warm apples and finally the toasted nuts and seeds.
Enjoy!