Glazed Ham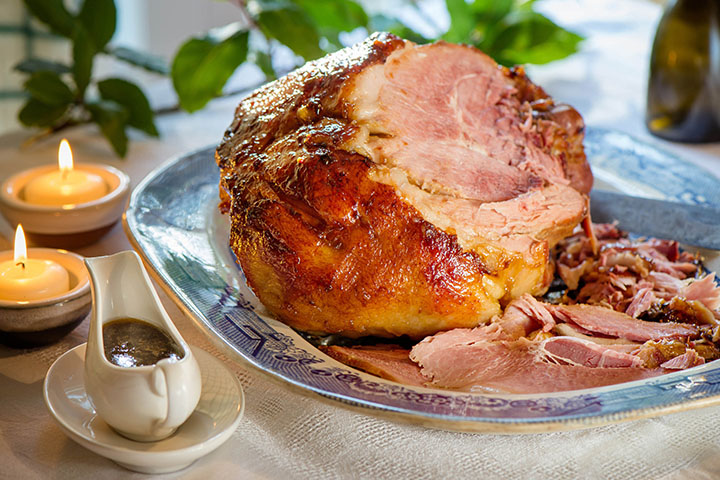 Cooking Time:

3hrs 20mins

Serves:

6/8

Allergens:

sulphites
Description
Soaking your ham before cooking is a good idea, as it will get rid of any extra saltiness. Place the ham in cold water overnight and drain well before getting ready for the Ballymaloe Glaze. If possible use ham on the bone as its flavour is often deeper. Either way, if cooked correctly with the glaze on at just the right time, it'll be delicious.
Ingredients
4-5kg/9-11lb ham on the bone
Ballymaloe Ham Glaze
Bay leaves to decorate
Method
Preheat the oven to 180C°.
Put the ham in a large roasting tin and cover tightly with foil. Bake for three hours.
3 Remove the ham from the oven and turn the heat up to 200C°.
Using the back of a spoon, carefully remove the rind off the ham, leaving about 1-2 cm of fat and cut a diamond-shaped pattern into this.
Spoon the Ballymaloe Ham Glaze over the ham.
Roast for 20 minutes, remembering to baste every 5 minutes until the ham is tender and the outside is nice and sticky.
Decorate a large platter with bay leaves and place the glazed ham in the middle, creating a wonderful centrepiece for your table.