Goat's Cheese & Ballymaloe Diced Irish Beetroot Croquettes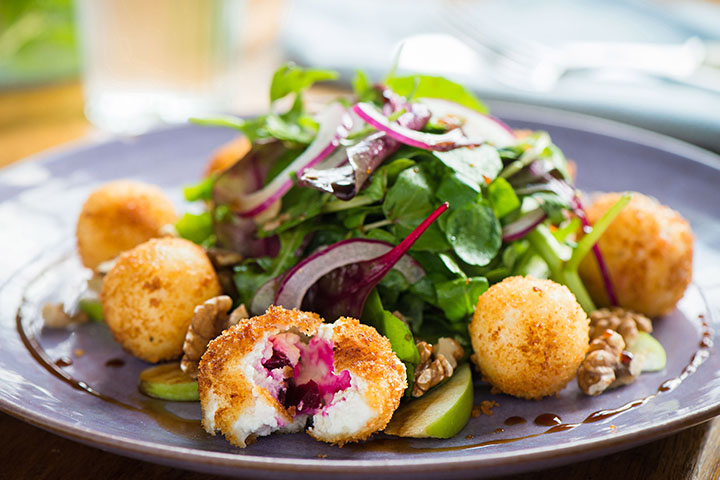 Cooking Time:

15 minutes - Heat deep fat fryer to 180⁰C

Serves:

6 (makes 18 croquettes)

Allergens:

Egg, dairy, wheat
Description
Looking and – more importantly – tasting wonderful, this recipe is surprisingly easy to make. Perfect as an impressive starter, these croquettes have the lovely, earthy flavour of Irish-grown, cooked and packed Ballymaloe Diced Irish Beetroot, complemented by the creaminess of Ardsallagh Goat's Cheese. A crispy croquette exterior leads to a gorgeous, gooey middle, while a splash of Ballymaloe Classic French Dressing on your salad is an elegant finishing touch.
Ingredients
200g (8oz) Ardsallagh Goat's Cheese
2 tbsp Ballymaloe Diced Irish Beetroot (well drained)
Salad leaves (enough for 6)
1 Granny Smith apple (peeled, cored & finely diced)
½ red onion (finely sliced)
100g fine breadcrumbs
Sunflower oil
2 eggs (beaten)
3 tbsp flour
Salt & freshly cracked black pepper
Ballymaloe Classic French Dressing
Method
Roll a small amount of Ardsallagh Goat's Cheese into a ball in your hand and place a cube of Ballymaloe Irish Beetroot in the centre.
For the crumb coating, place the eggs, flour (seasoned with a pinch of salt & pepper) and breadcrumbs into three separate bowls.
Dip the goats cheese ball in the flour and shake off any excess. Then coat it in the egg mixture. Lastly, dip it in the breadcrumbs, patting gently to ensure full coverage.
Repeat for all 18 balls, then gently place them slowly and carefully into your deep fat fryer's basket.

Let them fry until they begin to turn golden-brown. Remove and drain on a plate that is lined with kitchen paper.
Toss the apple and red onion in a teaspoon of dressing and set aside. Toss the salad leaves and drizzle with Ballymaloe Classic French Dressing, before adding a pinch of salt.
Divide the salad between 6 plates and top each with the dressed apple, red onion and your homemade croquettes.