Ham & Mushroom Omelette with Ballymaloe Relish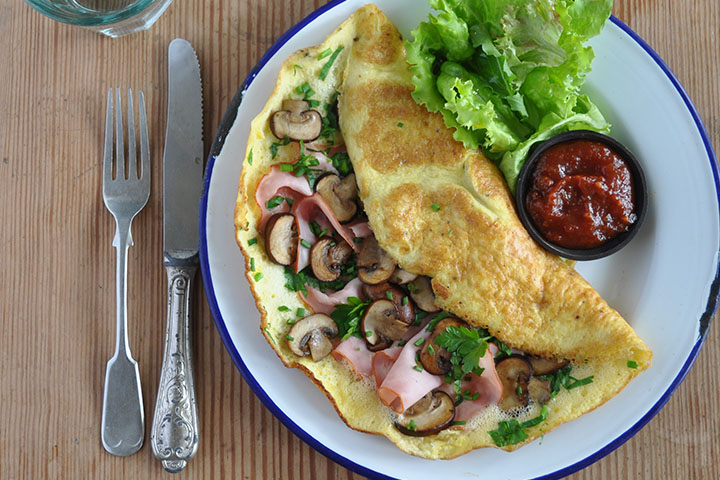 Cooking Time:

20 minutes

Serves:

2

Allergens:

Eggs, dairy
Description
The time-honoured combination of ham and mushroom is given a lift here, with the addition of some peppery rocket and a generous helping of Ballymaloe Relish. Great for a summer brunch or served with a green salad. Timing is everything when it comes to adding the ham & mushroom: wait until the egg has set well, then scatter them in before folding & flipping!
Ingredients
3 free-range eggs
30ml water
Salt & pepper
½ tsp butter
2 slices ham
4 mushrooms (sliced)
1 tsp parsley (chopped
1 tsp chives (chopped)
Ballymaloe Relish or Ballymaloe Pepper Relish
Fresh rocket (optional)
Method
Heat the butter in a pan.
Crack the eggs, water, and seasoning into a bowl. Whisk for approximately five minutes or until the eggs froth up to three times their original bulk.
As the butter begins to turn brown, pour in the egg mixture.
Reduce the heat and when the bottom is set, sprinkle in the ham, mushrooms and herbs. Fold over and a minute or two later, flip your omelette.
Remove from the heat when the eggs are just set.
Turn out onto a warm plate, top with rocket and serve with Ballymaloe Relish or Ballymaloe Pepper Relish.