Beef Burger with Ballymaloe Relish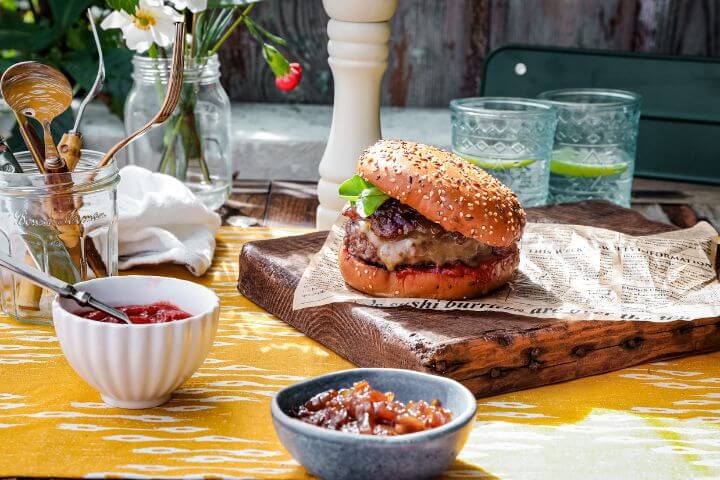 Cooking Time:

8 minutes plus prep time of around 10 minutes

Serves:

4

Allergens:

eggs, gluten
Description
Beef burgers can be as simple or as extravagant as you want them to be; this recipe is somewhere in between. Simple steps like sautéing your onions before adding them to your raw meat can significantly impact the flavour of your finished dish. As can lightly toasting your burger buns, using good quality cheese, and fresh salad to garnish.  Spread a generous layer of Ballymaloe Relish and enjoy every bite.
Ingredients
4 seeded burger buns
450g minced beef
1 free-range egg (beaten)
50g flour (seasoned)
4 slices of mature cheddar cheese
1 medium onion (chopped)
1 large onion (sliced)
1 large beef tomato (sliced into 4)
8 pieces of Ballymaloe Irish Beetroot
4 Butterhead lettuce leaves
4 tbsp Ballymaloe Caramelised Onions
4 tbsp bacon jam
1 tsp thyme leaves (fresh)
¼ tsp salt
½ tsp freshly cracked black pepper
4 tbsp Ballymaloe Original Relish
1 tsp thyme leaves (fresh)
15g butter
Method
To take your burger to the next level, start off by gently sautéing your chopped onion in butter until soft. This helps release the onion's natural sweetness, adding a stunning layer of flavour to the burger. Once the onion is cooled, add it to a bowl along with the mince, egg, thyme, salt, and pepper - you may wish to add ½ a tsp of chilli powder for a little kick at this point.
Once the burger mixture is combined, shape into 4 evenly sized patties and toss them in the seasoned flour - pat off any excess flour, cover with cling film and leave them in the fridge for 30 minutes to firm up.
Lightly coat the firmed-up burgers in a little olive oil using a pastry brush before preheating a non-stick frying pan on medium heat - you can also use a grill pan or BBQ to cook your burgers if you desire. Cook the burgers for 5 minutes (4 minutes will suffice if you prefer the burger to be cooked medium, for a more well-done patty, cook for 6 minutes). Once cooked, set the burgers aside to rest.
In a clean pan, gently toast the cut side of your burger buns for that gourmet feel. Building your burger comes next! Slather each bun with a generous spoonful of deliciously rich tomato relish before topping with a fresh, crunchy butterhead lettuce leaf, Ballymaloe Caramelised Onions (you can make your own, but the shop-bought options are just as good), juicy beef tomato, perfectly cooked burger, sliced Cheddar cheese, beetroot, and bacon jam before finally topping it all off with the toasted burger lid. The possibilities really are endless; you can choose to use any concoction of ingredients to make your own unique version of this burger.
Using a meat thermometer, the core temperature of the burger should reach 75°C to ensure it is cooked through.
TIP: Using a meat thermometer, the core temperature of the burger should reach 75°C to ensure it is cooked through.

Traditionally burgers have always been served with fries, which is still the best and obvious choice! If you are looking to enjoy this indulgent meal with a healthier side, why not try sweet potato wedges, a pickled veggie salad, or grilled asparagus wrapped in parma ham?