Beef Burger with Ballymaloe Sliced Irish Beetroot, Caramelised Onions & Bacon Jam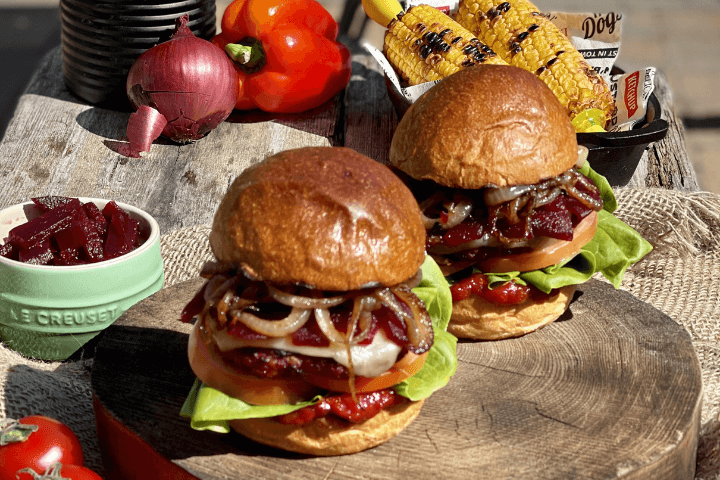 Cooking Time:

45 minutes

Serves:

4

Allergens:

Wheat, dairy, sulphites
Description
This gourmet burger tells summer: Bring it on. WE ARE READY. The delicious flavours in this recipe, packed full of Irish ingredients, come together to create the true definition of a crowd-pleaser. Enjoy!
Ingredients
4 burger buns
450g minced beef (cold)
8-12 slices Ballymaloe Sliced Irish Beetroot
110g onion (sweated in 25g butter, then cooled)
1 free-range egg (beaten)
4-8 slices of mature Cheddar
3 medium onions
1 large beef tomato (sliced into 4)
Lettuce leaves
4 tbsp bacon jam
1 tsp thyme leaves (fresh)
15g butter
15g salt & freshly cracked black pepper
4 tbsp Ballymaloe Pepper Relish
Dietary Suitability
Not suitable for vegetarians
Method
Melt the butter in a pan, add the onions, cover and sweat until soft. Allow to cool and then add the mince, thyme and egg.
Shape into 4 burgers and toss in seasoned flour, patting off any excess. Lightly coat each burger in olive oil. Fry at a medium heat, turning as required until fully cooked.
Cover and chill until needed.
When ready to cook, pre-heat a non-stick frying pan / grill pan / BBQ.
Remove the burgers from the fridge and brush lightly with extra virgin olive oil.
Place on your pre-heated surface and cook for 4 minutes a side, or until the juices run clear when the burger is pressed. Set aside to rest.

Using a clean pan, quickly toast the cut side of the burger buns.
To caramelise the onions, peel and slice 3 medium-sized onions. Melt the butter, until foaming, in a medium-sized heavy-bottom saucepan. Add in the sliced onions and cook on a medium heat, stirring occasionally.
Continue cooking until the onions start to caramelise and soften. Using a wooden spoon, make sure to lift any caramelised liquid from the base of the pot and reintroduce it when stirring. Continue until the onions have caramelised, then pop on a plate to cool.

To assemble your burger: slather each bun with a generous spoonful of Ballymaloe Pepper Relish, then top with crunchy lettuce, your caramelised onions, sliced tomato, beef burger, Cheddar slices, Ballymaloe Sliced Irish Beetroot and bacon jam before finally topping it all off with the lid!
TIP: Using a meat thermometer, the core temperature of the burger should reach 75°C to ensure it is cooked through.