Breakfast Bagel with Ballymaloe Original Relish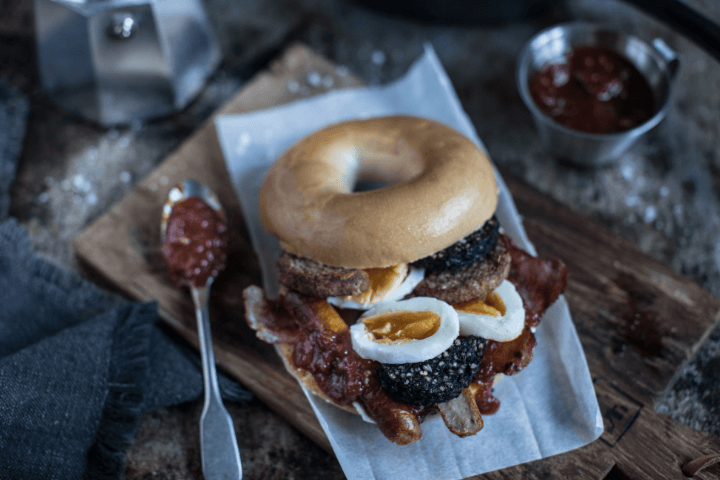 Cooking Time:

20 minutes

Serves:

1

Allergens:

contains gluten, contains sulphites, contains mustard seeds
Description
The all-time winning breakfast option. Best served with lashing of Ballymaloe Relish and simply prepared with the delightful addition of a sliced boiled egg. The risk with this breakfast bagel is that one may not be enough! You have been warned!
Ingredients
A bagel of your choice
2 cooked sausages, cut length ways
1 slice of cooked black pudding
1 slice of cooked white pudding
2 cooked rashers
1 soft boiled egg
2 tbsp. of Ballymaloe Original Relish
1 tbsp. of cream cheese
Dietary Suitability
Contains Mustard Seeds
Contains Gluten
Contains Sulphites (in meat)
Not suitable for Vegetarians/Vegans
Method
Cook your egg in boiling salted water for 7 mins and cook all breakfast items to your liking.
Take your bagel and cut it in half and pop it into a toaster until golden brown.
Layer the inside of the bagel with cream cheese on one half and add Ballymaloe Original Relish to the other half.
Then place the rashers on the base, top with the sliced sausages, cooked puddings, and finally, the egg should be ready to drain and peel carefully. Slice the warm egg and place it on top of the pudding (a cold boiled would also be delicious).
Pop on the lid and enjoy this delicious start to your day!