Camembert and Ballymaloe Cranberry Sauce Party Palmiers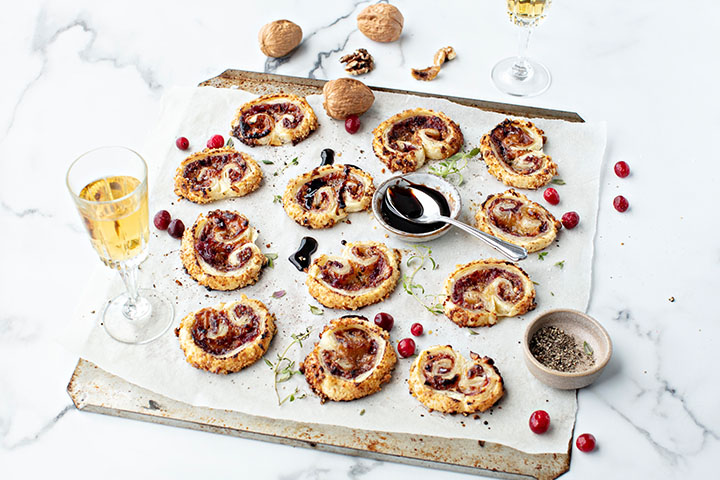 Cooking Time:

45 mins

Serves:

6

Allergens:

nuts, dairy, egg, wheat
Description
The great thing about this palmier recipe is that you can use ready rolled puff pastry, so the creativity is all around the toppings you choose. Camembert and cranberry balance beautifully and Ballymaloe Cranberry Sauce is the perfect place to start. Add in the texture and taste of walnut and you've got the ideal party food or seasonal treat.
Ingredients
50g walnuts
320g ready-rolled puff pastry sheet
100g Camembert cheese or blue cheese (fridge cold)
25g Parmesan cheese
Large handful of fresh thyme leaves
1 egg
Balsamic vinegar
Sea salt and finely ground black pepper
Fresh cranberries, to serve (optional)
175g Ballymaloe Cranberry Sauce
Method
Blitz the walnuts to a rough crumb in a blender and tip into a small bowl. Wipe the blender out and then blitz the Ballymaloe Cranberry Sauce in there until smooth.
Unroll the puff pastry sheet and spread the sauce evenly all over. Roughly grate the Camembert (including any rind) and finely grate the Parmesan. Sprinkle both evenly over the sauce. Scatter two-thirds of the thyme leaves over and season with a little salt and pepper.
With the tip of a sharp knife, mark the halfway point of each of the short ends of pastry. Then roll each long side inwards tightly to this centre point, so that they meet in the middle like two Swiss rolls.
Brush the egg all between the rolls to help them stick together, then all over the sides and bottom. Scatter the chopped walnuts on the surface and roll the pastry roll into them, turning it over carefully, until evenly coated all over. Place on a tray, cover and refrigerate for 30 minutes until firm.
Preheat the oven to 200C (fan 180C), 400F, Gas Mark 6. Line a large baking sheet with baking paper and set aside.
Using a sharp knife, cut the roll into quarters. Then slice each piece into 6 slices (about 1.5cm thick), laying them down spaced apart on the prepared tray as you go. Bake for 15 minutes until crisp and golden.
Serve scattered with the remaining thyme leaves and a bowl of reduced balsamic for dipping or drizzling. Optional: Make sweet cranberry and adding a teaspoon cinnamon palmiers by omitting the cheese.