Cranberry & White Chocolate Bread & Butter Pudding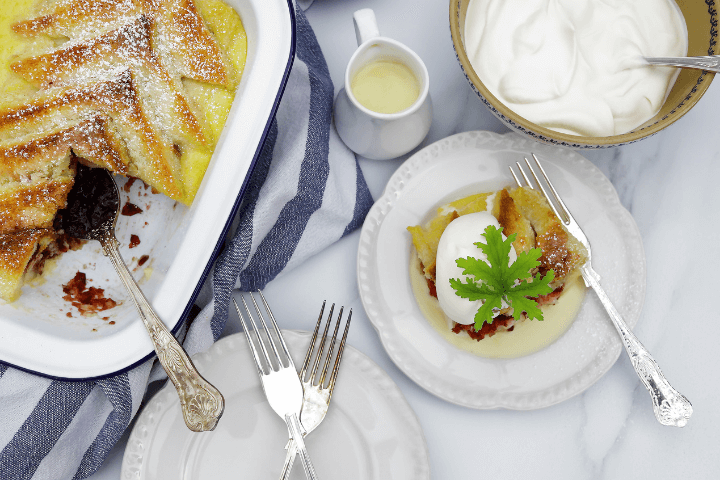 Cooking Time:

1 hr 20 mins

Serves:

4

Allergens:
Description
A beautiful winter warmer dessert to enjoy over the Christmas holidays.
Ingredients
25g softened butter
100g white chocolate chopped/ broken into pieces
150ml cream
150ml milk
2 large eggs
1 oz caster sugar
1 tsp vanilla extract
1 small jar Ballymaloe Cranberry sauce
7 thick slices of bread (use 9 slices if regular sliced pan)
1 tbsp sugar to sprinkle
Whiskey Cream:
250 ml cream
25ml whiskey
Enamel dish (28cm) or similar oven proof dish.
Method
In a medium saucepan gently warm (do not boil or simmer) the milk, cream, sugar and white chocolate. Stir until the chocolate dissolves then set aside.
In a separate bowl beat the eggs with the vanilla extract.
Combine the egg and chocolate cream mixture, stir well, then pass it through a nylon sieve to remove any lumps and place in a jug. Pour 100ml of the white chocolate mixture into a clean bowl, cover and refrigerate (this will become the white chocolate custard tomorrow).
Using a serrated knife cut off all of the crusts and use for breadcrumbs in stuffing.
Now butter each slice of bread all the way to the edges.
Generously slather each slice of buttered bread with Ballymaloe Cranberry Sauce.
Butter the serving dish then start to assemble by placing two slices of bread cranberry side facing down.
Place another layer of bread on top again cranberry side down.
The remaining three slices- cut each slice in half to create 2 triangles, do the same with the remaining two slices. Take these triangles cranberry side facing down and overlap each one to cover the top layer fully.
Take the remaining chocolate cream and egg mixture and pour it over the bread ensuring full coverage.
Carefully sprinkle the sugar over the triangles then wrap and refrigerate for 24hrs.
After 24 hrs… preheat your oven to 180* Conventional.
Place a bain-marie in the oven half-filled with hot water. (you can use a roasting tray for this).
Remove the pudding from the fridge. Discard the foil and place CAREFULLY in the bain-marie and bake for 1 hr until deliciously golden brown and fully cooked.
Just as the pudding is baked, put the remaining custard into a small saucepan and place on a gentle heat. Stirring continuously allows the custard to thicken slightly. This can take up to 10mins. Remove immediately from the heat and place into a warm jug to serve over the pudding.
The whiskey cream- lightly whip the cream then fold in the whiskey. Jameson is delicious but it will work with whatever your favourite is. Don't be shy with the measure- adjust according to your taste.
Once the Ballymaloe Cranberry and white chocolate Bread and Butter Pudding is out of the oven, bring it straight to the table.
On warm dessert plates serve each portion of delicious pudding with a great big dollop of whiskey cream and lashings of white chocolate custard. Enjoy ever mouthful!