Cranberry & White Chocolate Bread & Butter Pudding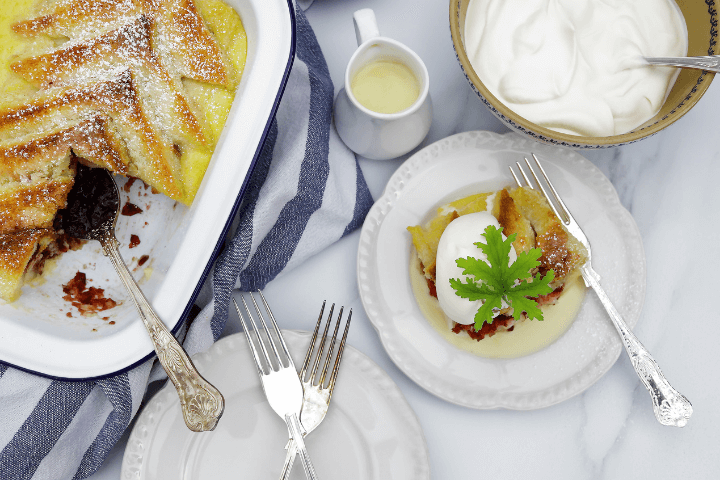 Cooking Time:

Make over 2 days: Day 1 - 1 hour 20 minutes; Day 2 - 1 hour (Preheat the oven to 180°C/350°F/Gas Mark 4)

Serves:

4

Allergens:

Eggs, dairy, gluten
Description
Using Ballymaloe Cranberry Sauce, this wonderful winter warmer of a dessert is a treat for all the family. White chocolate & cranberries are the perfect partners for contrasting flavours – the white chocolate is creamy and decadent, while the sharp yet sweet cranberries add some surprising notes! Serve with some homemade whiskey cream to really lap up this luxurious dessert!
Ingredients
7 thick slices of bread (9 slices if using regular sliced pan)
Ballymaloe Cranberry Sauce
100g white chocolate chopped/broken into pieces
25g softened butter
150ml cream
150ml milk
2 eggs (large)
1oz caster sugar
1 tsp vanilla extract
1 tbsp sugar (for sprinkling)
For your Whiskey Cream:
250ml cream
25ml whiskey
Enamel dish (28cm) or similar oven-proof dish
Method
In a medium saucepan gently warm (do not boil or simmer) the milk, cream, sugar and white chocolate. Stir until the chocolate dissolves, then set aside.
In a separate bowl, beat the eggs with the vanilla extract.
Combine the egg and chocolate cream mixture, stir well, then pass through a nylon sieve to remove any lumps, then place in a jug.
Pour 100ml of the white chocolate mixture into a clean bowl, cover and refrigerate (this will become the white chocolate custard tomorrow).
Cut all the crusts off your bread (handy to keep for stuffing!)
Butter each slice of bread all the way to its edges.
Generously slather each slice of buttered bread with Ballymaloe Cranberry Sauce.
Butter your serving dish, then start to assemble by placing two slices of bread cranberry sauce-side down.
Place another layer of bread on top, again cranberry-side down. If using regular sliced pan, repeat with another 2 slices.
Cut each of the remaining 3 slices in half, to create a total of 6 triangles. Take these triangles, cranberry-side down and overlap to cover the top layer fully.
Take the remaining white chocolate cream and egg mixture and pour it over the bread, coating it fully.
Sprinkle your sugar over the top and refrigerate, covered in foil, for 24 hours.
After 24 hours... Preheat the oven to 180°C/350°F/Gas Mark 4.
Place a bain-marie in the oven, half-filled with hot water (you can also use a roasting tray for this).
Remove the pudding from the fridge. Discard the foil, place carefully in the bain-marie and bake for 1 hour until deliciously golden brown and fully cooked.
As the pudding reaches perfection, put the remaining custard into a small saucepan and place on a gentle heat. Stir continuously to allow the custard to thicken slightly. This can take up to 10 minutes. Remove immediately from the heat and place into a warm jug to serve with your pudding.
For the whiskey cream: Lightly whip the cream, then fold in your whiskey of choice. Don't be shy with your measure! Adjust according to your personal taste.
Serve your White Chocolate & Cranberry Bread & Butter Pudding with a great big dollop of whiskey cream and an equally generous measure of your homemade white chocolate custard. Enjoy every mouthful!