Fiery Relish Sausage Rolls with a Ballymaloe Mayo Dip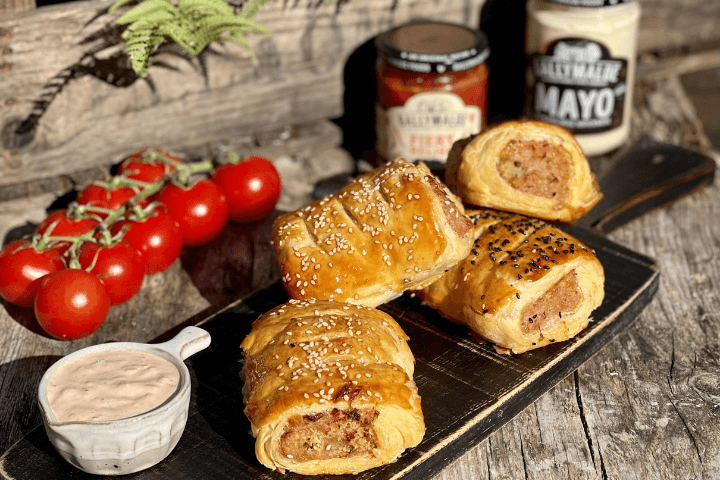 Cooking Time:

1 hour - Preheat the oven to 175°C/350°F/Gas Mark 4

Serves:

4-6

Allergens:

Wheat, dairy, sulphites, egg, mustard
Description
The humble sausage roll is truly one of the under-rated pleasures of foodie fare. Our sausage rolls are made with Ballymaloe Fiery Relish: a nod to the chilli lover who adores gourmet sausage rolls. For those who prefer a little less heat, try using Ballymaloe Pepper Relish instead, but remember – our mayo dip is going to bring some coolness to your tastebuds too! This sausage roll recipe can also be adapted to create a sausage garland for a summer picnic or platter.
Ingredients
450g minced pork (80% lean & 20% fat)
350g sheet of puff pastry (defrosted)
1 tbsp Ballymaloe Fiery Relish / Ballymaloe Pepper Relish
1 clove of garlic (minced)
2 tsp rosemary (finely chopped)
1 free-range egg (beaten)
60g breadcrumbs
Salt & pepper
1 tbsp Ballymaloe Original Relish / Ballymaloe Pepper Relish
Ballymaloe Mayo
Method
Preheat the oven to 175°C/350°F/Gas Mark 4.
Combine all the ingredients for the sausages (minced pork, garlic, rosemary, 1 egg, Ballymaloe Fiery Relish, and breadcrumbs) together and mix well. Fry a little of the mixture in a frying pan to check the seasoning, then adjust if necessary.
Lay the sheet of defrosted puff pastry on a clean worktop.
Spread Ballymaloe Original Relish over the pastry, leaving an inch from the edge free.
Mould the sausage mixture into a sausage shape with your hands and lay it lengthwise on one side of the rectangle, making sure it goes all the way to the edges.
Roll the sausage and pastry into a tube, pressing the seam together.
Place on a parchment-lined baking sheet, then brush the pastry with the beaten egg. Using a sharp knife, score through the pastry to within 1cm of the inside, at 2.5cm intervals.
Bake in the preheated oven for 15 minutes then reduce temperature to 150°C and continue to cook for 10-15 minutes or until the pastry is flaky, golden-brown and the meat reaches 75°C and is cooked through.
Make your own dip using Fiery Relish, Pepper Relish or Original Relish, combined with Ballymaloe Mayo for a creamy, yet tangy, dip.