Full Irish Breakfast with Ballymaloe Relish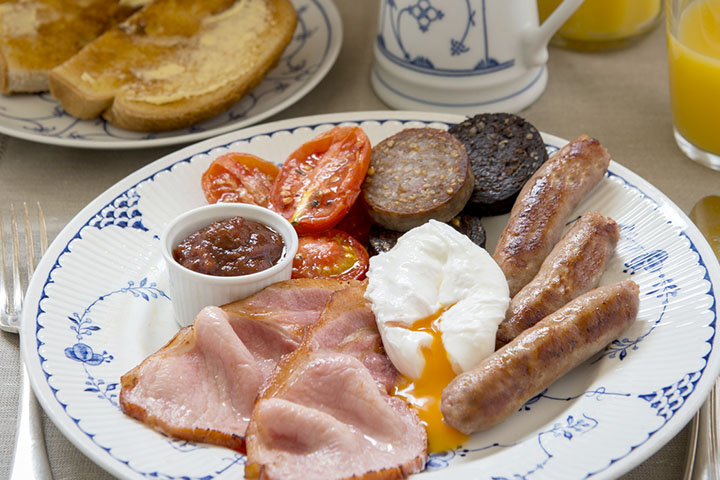 Cooking Time:

15 minutes

Serves:

1

Allergens:

Egg, dairy, sulphites
Description
We're getting hungry even thinking about a Full Irish Breakfast with Ballymaloe Relish. Crispy bacon rashers, plump pork sausages, perfectly-fried eggs, grilled tomatoes, white pudding, black pudding, toast (dripping with butter), a big cup of tea and a glass of OJ to start the day in style. It doesn't get much better than that until – of course – you add some Ballymaloe Relish to your plate: making your Full Irish Breakfast complete! And, according to our customers, Ballymaloe Steak Sauce is a great accompaniment to your Full Irish Breakfast too – sweet & sticky with Irish Stout, it's an early morning treat that will set you up for the day.
Ingredients
Bacon rashers
Sausages (pork, chicken, turkey, vegetarian or vegan)
Free-range eggs
Black and/or white pudding
Tomatoes
Sugar
Butter
Salt & pepper
Ballymaloe Relish
Method
Cook your sausages and black / white pudding on a gentle heat until golden-brown and cooked through. Pop the bacon on a high heat and cook quickly until it is sizzling with crispy edges.
Halve the tomatoes, season with a little salt & pepper, sprinkle with a pinch of sugar and add a tiny knob of butter. Put the tomatoes under a grill or in a hot oven until they are well cooked and coloured.
Strain off any bacon fat left over from cooking and reserve for frying the eggs. Use a clean, non-stick pan and heat the bacon fat on a medium heat, then crack in your egg and fry.
Assemble proudly in the knowledge of a job well done and serve with a generous dollop of Ballymaloe Relish or Ballymaloe Steak Sauce.