Honey & Fiery Relish Roast Salmon with Heirloom Tomatoes & Ballymaloe Diced Irish Beetroot Salad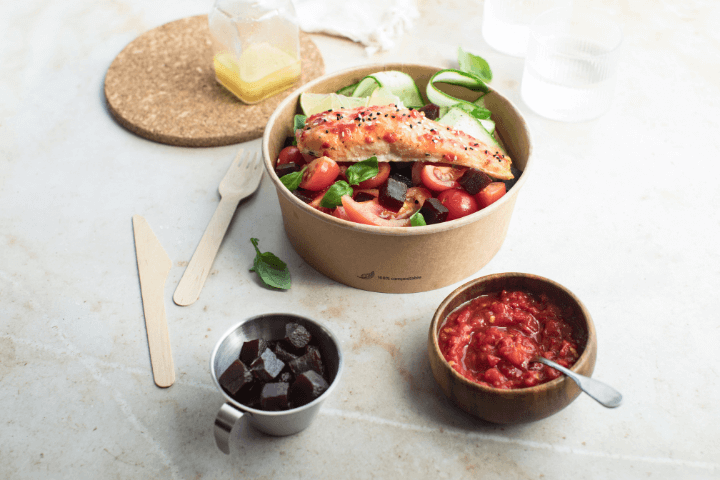 Cooking Time:

25 minutes - Preheat the oven to 180°C/350°F/Gas Mark 4

Serves:

2

Allergens:

Fish, mustard, egg
Description
This salad is at peak deliciousness when Irish heirloom tomatoes are in season. And what makes an heirloom tomato an heirloom tomato? The seeds, which are passed down from season to season, taken by the farmers from the tomato plants that produced the best fruit. The flavours on this particular plate are sensational, and the mix of honey and Ballymaloe Fiery Relish is the perfect glaze for salmon! You can also substitute Ballymaloe Ham Glaze for the honey in this recipe – equally as sweet & sticky! Want to give this dish even more punch? Add some wasabi paste or grated horseradish, but warn your guests in advance, as our Fiery Relish is more than capable of bringing the heat on its own! A good tip when cooking salmon is to look for any white liquid to rise from the fish: these are the enzymes that appear when it begins to overcook, telling you it's time to take it out of the oven!
Ingredients
2x salmon fillets (skin-on)
Ballymaloe Fiery Relish
Ballymaloe Ham Glaze or runny honey
1 small cucumber (peeled into ribbons)
3 heirloom tomatoes (roughly chopped with cores removed)
Ballymaloe Classic French Dressing
2 tbsp Ballymaloe Diced Irish Beetroot (drained)
Handful of fresh basil
Sea salt & freshly-cracked black pepper
Wasabi paste/grated horseradish (optional)
Method
Preheat the oven to 180°C/350°F/Gas Mark 4.
Take a small baking tray and cover in parchment paper, then place the salmon fillets on top.
In a small bowl mix 1 tablespoon of runny honey (or Ballymaloe Ham Glaze) with 1 teaspoon of Ballymaloe Fiery Relish.
Spoon this mixture over the salmon and place in the oven for 5 minutes. The smaller the salmon, the less cooking time required.
Keep glazing regularly while cooking. Once fully cooked, remove from the oven carefully.
Haphazardly chop up the heirloom tomatoes & place in a bowl.
Pour a drizzle of Ballymaloe Classic French Dressing over the tomatoes with a pinch of sea salt & freshly-cracked black pepper. You can also add a dash of wasabi or grated horseradish to your tomatoes.
Drape the cucumber ribbons around and over the tomatoes, and then dot your plate with drained beetroot dices.
Shred some fresh basil on top, then sprinkle liberally with sea salt & freshly-cracked black pepper.
Place the fiery glazed salmon on each plate and eat immediately! We recommend a glass of something cold to temper the heat from this delicious dish!