Lilly Higgins' Beetroot & Barley Salad with Ballymaloe Irish Beetroot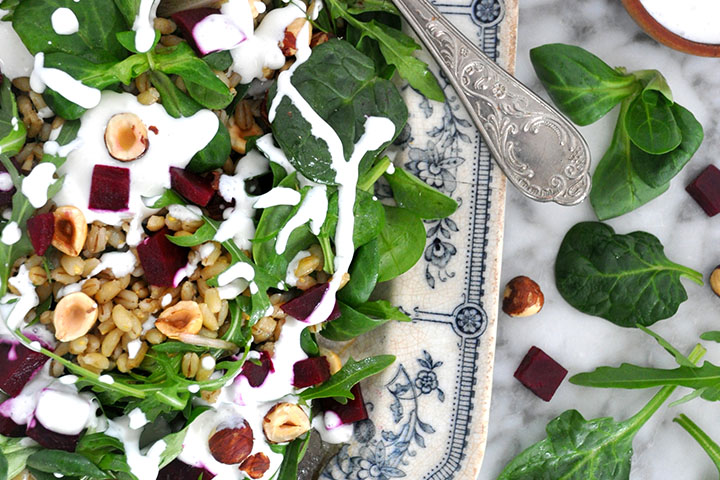 Cooking Time:

40 minutes

Serves:

6

Allergens:

dairy, wheat, nuts
Description
If you're looking for something different when it comes to salad, this recipe from Lilly Higgins fits the bill. The combination of barley, hazelnuts, goat's cheese dressing and Ballymaloe Irish Beetroot also gives the dish a nice mix of texture and taste. Our beetroot is grown, cooked and packed in East Cork and has an earthiness hard to find in other beetroot and is in perfect balance with the other ingredients.
Ingredients
300g Pearl barley
3 Tablespoons olive oil
1 Tablespoons red wine or balsamic vinegar
150g Soft goat's cheese
2 Tablespoons milk
200g Mixed baby salad leaves
415g Ballymaloe Irish Beetroot
100g Hazelnuts, toasted and roughly chopped
Method
Rinse the barley well in a sieve under running water. Place in a saucepan and cover with cold water. Bring to the boil, then drain immediately. Cover once more with cold water and bring to boiling point again. Lower the heat and leave to simmer for 15-20 minutes, until the barley is cooked but still retains some bite. Drain and place in a large bowl. Immediately dress with three tablespoons of olive oil and a tablespoon of vinegar. Season with salt and black pepper. Set aside to cool.  
Place the goat's cheese in a small bowl along with one or two tablespoons of milk. Use a whisk or fork to whip the two together until a nice thick consistency. It will firm up a little after mixing. Set aside. 
Once the barley is cooled, toss it gently with the salad leaves to combine. Distribute among four serving plates. Scatter the Ballymaloe Irish Beetroot cubes and chopped hazelnuts over the top, then drizzle with the goat's cheese dressing.