Mezze Platter with Ballymaloe Red Onion Relish Hummus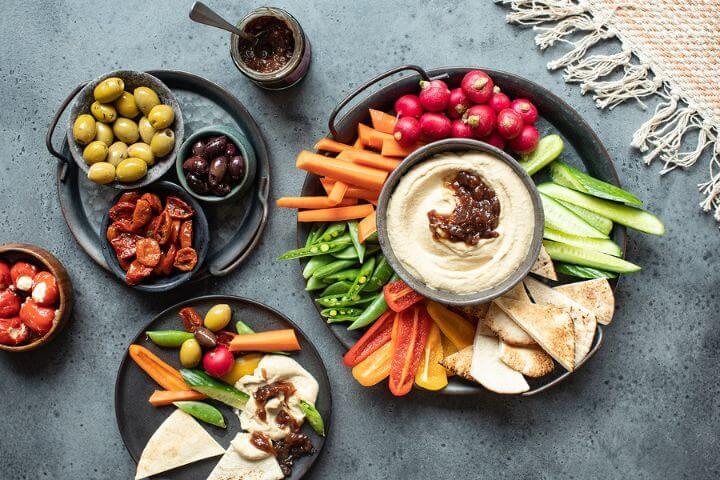 Cooking Time:

25 minutes

Serves:

3-6

Allergens:

cereals containing gluten, milk
Description
This is a delicious platter that works in all weather and all seasons. This colourful party platter is made to share and encourages great conversation from its convivial presentation. Please use as many seasonal crunchy veggies that are locally grown to really amplify seasonality and sustainability. Eating with the seasons also makes a huge difference to the flavour.
Ingredients
For the Red onion hummus:
1 can chickpeas, drained
60ml cold water, plus a 30ml for a looser consistency
1 small garlic clove (peeled and crushed)
1 lemon (juiced then ½ zested)
3 tbsp tahini
1 tbsp olive oil, to garnish (optional)
1 jar of Balymaloe Red Onion Relish
Cruditée bits:
Batons of peppers, carrots and cucumber (seeds removed)
Radishes (in-season), spring onions, cherry tomatoes
Toasted pitta bread, bread sticks, gluten free crackers, seeded crackers (your choice)
Warm falafel
Mixed olives
Stuffed vine leaves
Feta stuffed peppers
Method
Pour the tin of chickpeas into a colander, drain and place under a cold running tap to rinse fully.
Once fully drained, tip into the bowl of a food processor along with 60ml of water and pulse/ blitz until almost smooth.
Add the garlic, lemon and tahini, and blitz again. If the consistency is too thick, gradually pour in up to 20/ 30ml more water. Add less and assess.
Add in 1 heaped tbsp of Ballymaloe Red Onion Relish and blitz again until the hummus is smooth and silky.
Taste and add a pinch of sea salt if you feel it needs it.
Pop into a nice serving bowl in the centre of a large board or serving platter. Top the hummus with a a dollop of Ballymaloe Red Onion Relish, and a drizzle of olive oil.
Surround the hummus with the cruditée selection, crackers, and bits.