Vegan Flatbread with Ballymaloe Relish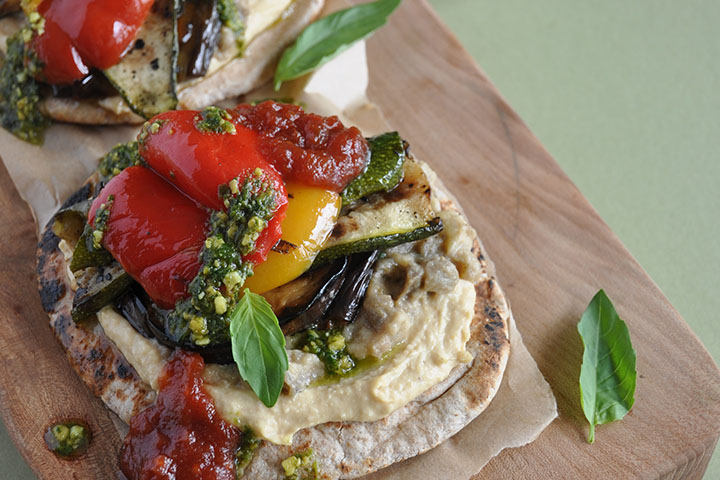 Cooking Time:

15 minutes

Serves:

1

Allergens:

Wheat, nuts
Description
Ideally this recipe uses khubz – a Middle Eastern flatbread – but you can use other homemade or shop-bought flatbreads as alternatives. This vegan recipe uses dairy-free pesto and a lovely mix of vegetables and sauces. Ballymaloe Relish provides a lovely background heat and the combination of textures and flavours will woo non-vegans too!
Ingredients
1 khubz wrap (or a sun-dried tomato wrap)
2 strips roasted & peeled peppers
3 slices roasted courgettes (fully drained)
2 slices roasted aubergine
25g (1 heaped tsp) Baba Ganoush
2 tsp hummus
2 tomato slices (seasoned with a light sprinkle of salt, pepper & sugar)
1 tsp basil pesto
2 tsp Ballymaloe Relish or Pepper Relish
3 basil leaves (optional)
Method
Layer the base of the flatbread with hummus, then dollop on and smooth out the Baba Ganoush.
Add your Ballymaloe Relish, then top with the roasted vegetables and sliced tomatoes.
Pop under the grill to warm the wrap and veggies, then serve when toasty hot, finished with a drizzle of basil pesto.