Classic Spanish Omelette with Ballymaloe Relish or Ballymaloe Pepper Relish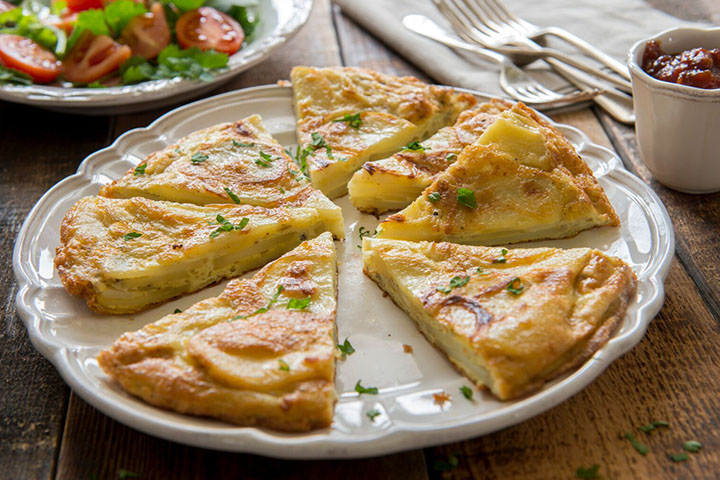 Cooking Time:

40 minutes

Serves:

3-4

Allergens:

Egg
Description
A signature of Spanish cuisine, this omelette uses quite a lot of oil during cooking, both when frying the potatoes and when the omelette itself is cooking, so don't be wary of the measurements. Ballymaloe  Relish is delicious with both potato and eggs, so it's a welcome addition to this classic recipe – as is Ballymaloe Pepper Relish, which adds a little heat to the dish.
Ingredients
5 free-range eggs
5 medium baking potatoes (peeled, sliced & lightly sprinkled with salt)
230ml olive oil
½ chopped onion
3 cloves garlic (crushed)
Salt & pepper
Ballymaloe Relish or Ballymaloe Pepper Relish
Method
Heat the olive oil in a 9" heavy-bottomed frying pan and add the potato slices carefully, keeping them separated as much as possible so they don't stick together. Cook, turning occasionally, over a medium heat for 6 minutes.
Add the onions and garlic and cook for a minute or two.
Drain into a colander, leaving about 3 tablespoons of oil in the pan.
Meanwhile, in a large bowl, whisk the eggs with a good pinch of salt.
Add the potatoes and stir to coat with the egg.
Add the egg-coated potatoes to the very hot oil in the frying pan, spreading them evenly to completely cover the pan's base.
Lower the heat to medium and continue to cook, shaking the pan frequently, until the mixture is just over half set.
Use a plate to cover the frying pan and turn the pan upside-down to get the omelette onto the plate.
Add 1 tablespoon of oil to the pan and slide the omelette back into the pan on its uncooked side, then cook until completely set.
Allow the omelette to cool, and then cut into wedges
Season with salt and serve with Ballymaloe Relish or Ballymaloe Pepper Relish.