Pancake Stack with Bacon & Ballymaloe Pepper Relish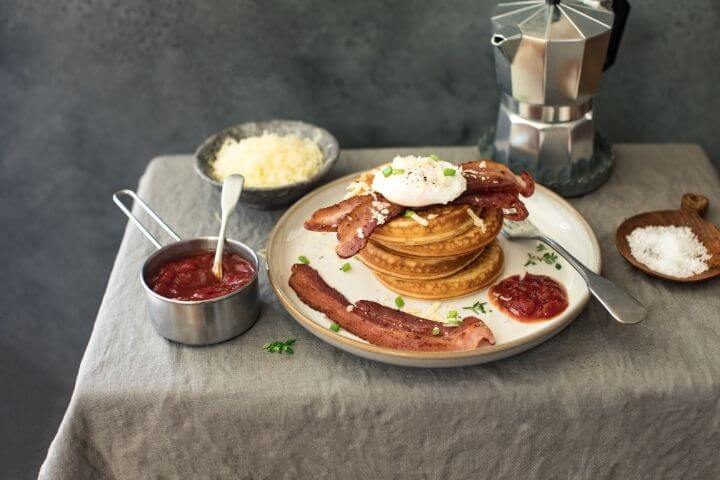 Cooking Time:

30 minutes

Serves:

4

Allergens:

Wheat, dairy, sulphites, egg
Description
This delicious savoury pancake stack will have you forgetting about those sweet, classic maple syrup pancakes in no time at all. You can add a fried egg to the top of your stack for a little extra decadence but, whatever you do, beat your pancake batter mix well – no lumps allowed! Once made, your batter can be used immediately, or left for up to an hour. Our Pepper Relish gives this recipe a little bit of heat but for those who prefer to keep their tastebuds on the cooler side, our Ballymaloe Relish is equally as tasty!
Ingredients
150g plain flour
2 tsp baking powder
½ tsp bread soda
25g caster sugar
3 medium free-range eggs
120ml buttermilk
25g butter (melted)
Olive oil for frying
8 rashers or crispy streaky bacon slices (cooked)
Fried egg (optional)
Ballymaloe Pepper Relish
Dietary Suitability
Contains gluten
Contains Egg
Method
Sift the flour, baking powder and bread soda into a bowl. Add the sugar and mix. Make a well in the centre and crack your eggs into it. Start whisking from the centre and gradually bring in the sides while slowly adding the buttermilk and melted butter.
Heat a large non-stick frying pan (medium heat) and add a little oil, then drop in large tablespoons of batter. Don't overcrowd the pan so 2-3 pancakes is the perfect number. Cook for a minute or two or until bubbles appear on the surface then flip and continue to cook on the other side. Continue cooking until the batter is all gone.
On warm plates, stack the pancakes, drape your favourite cooked bacon on top and finish with a great big dollop of Ballymaloe Pepper Relish or Ballymaloe Relish.