Potato Cakes topped with beet hollandaise butter, wilted spinach, Irish smoked salmon and Ballymaloe Diced Irish Beetroot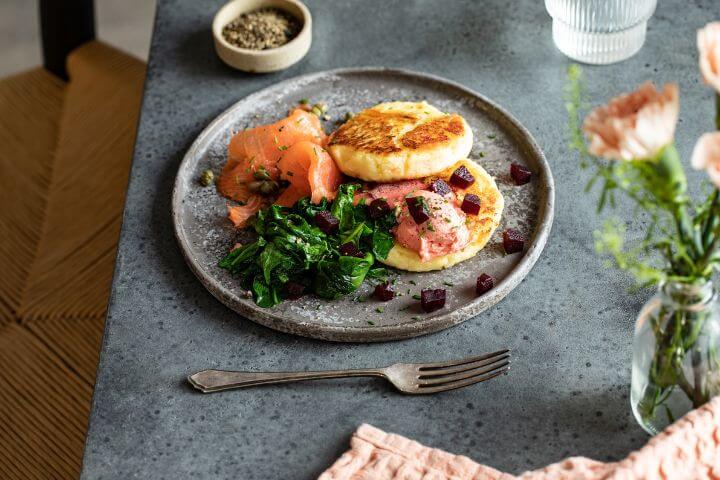 Cooking Time:

Serves:

Serves 6

Allergens:

eggs, dairy, gluten,
Description
Potato cakes are always a great way to use up some leftover food in the kitchen. The title can make this sound complicated but we promise it's not difficult, but it is absolutely delicious. We use our Ballymaloe Diced Irish Beetroot for extra flavour.
Ingredients
Potato Cakes
900g Ballymakenny cooked potatoes, peeled
50g butter
6 tbsp plain flour
1 large egg, beaten
2 tsp salt
Clarified butter to fry
Beet Hollandaise Butter
2 egg yolks, free-range
110g butter, cubed
2 tsp cold water
1- 2 tsp Ballymaloe Diced Irish Beetroot pickling juices, drained from beetroot
Wilted Spinach
900g fresh spinach, with stalks removed
Salt, freshly ground pepper and a little freshly grated nutmeg
50-100g butter or extra virgin olive oil
To garnish
Capers (approx. 6)
Chopped parsley/chives
Method
To make the potato cakes: 1. In a large bowl, mash the cooked potatoes until smooth.
To the mash, add in the melted butter, flour, and egg. Mix until fully combined.
Fry off a small piece of mash to taste and adjust seasoning accordingly.
Flatten the mix on a floured work surface.
Using a cutter, shape the potato cakes into 3 inch rounds
Heat a non-stick frying pan over a medium heat.
Fry off 2 or 3 potato cakes at a time (do not over crowd the pan) in some clarified butter
Important: watch the heat as you want to achieve a crispy and golden-brown appearance on all sides while also heating it through to the centre. This can take 5 minutes per side.
Keep warm in the oven as you finish frying off the remaining potato cakes
Toss the cooked peelings in oil. Season & bake. Use as crisps with dips.
To make the beet hollandaise butter: Put the egg yolks in a heavy, stainless-steel saucepan on a low heat
Add water and whisk thoroughly.
Add the butter cubes bit by bit, whisking all the time. As soon as one cube melts, add the next one. The mixture will gradually thicken, but if it shows signs of becoming too thick or slightly scrambling, remove from the heat immediately and add a little cold water if necessary.
Do not leave the pan or stop whisking until the sauce is made.
Finally, add 1-2 tsp of Ballymaloe Beetroot pickling juice to taste. If the sauce is too runny, increase the heat slightly and continue to whisk until the sauce thickens to coating consistency
Pour this into a container to set at room temperature. This then becomes your Beet Hollandaise Butter.
To make the wilted spinach: Wash the prepared spinach and drain. Use while still wet.
Melt the butter in a wide frying pan. Toss in as much spinach as will fit easily. Season with salt and pepper.
As soon as the spinach wilts and becomes tender, strain off all the liquid, increase the heat and add some remaining butter and freshly grated nutmeg. Taste and adjust seasoning if needed. Serve immediately.
To serve:: On a warm plate, place 2 cooked and golden potato cakes, stacked to one side.
Top the potato cakes with hot wilted spinach
Take a warm dessert spoon and create a quenelle of the Beet Hollandaise Butter and place on top, carefully.
On the plate: add a side of sliced smoked salmon, dotted with drained cubes of Ballymaloe Diced Irish Beetroot. Lastly, sprinkle over capers and chopped parsley/chives.