Pulled Pork Ciabatta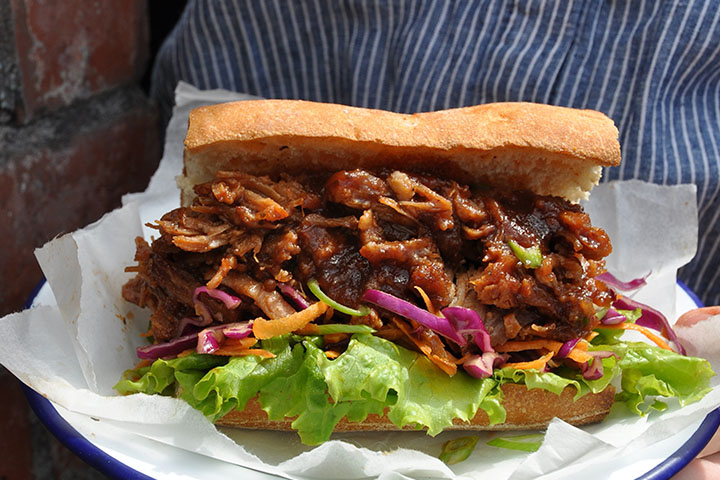 Cooking Time:

4 ½ hours

Serves:

6

Allergens:

wheat
Description
For a succulent pork that is easily pulled by a fork into delicious strands, it's all about the marinade and the cooking time. This recipe, while it has lots of ingredients to get that perfect pulled pork flavour, is very straightforward. We use Irish cider as the base for soaking up all the lovely spices and Ballymaloe Steak Sauce for the finishing touch and it works wonders. The combination goes perfectly with a slaw using Ballymaloe Balsamic and Apple Cider Vinegrette. An impressive pulled pork with all the flavour you'd expect.
Ingredients
1 Teaspoon smoked paprika
1 Teaspoon ground cumin
1 Teaspoon pepper
1 Teaspoon brown sugar
Pinch of salt
500ml Irish Cider
1.25kg shoulder of pork (boneless)
250ml Ballymaloe Steak Sauce
1/2 Small head red cabbage (shredded)
2 Large carrots (shredded)
2 Onions (thinly sliced)
5 Tablespoons Ballymaloe Balsamic & Apple Cider Vinegrette
6 Ciabatta
Mixed leaves
Method
Mix together the smoked paprika, ground cumin, pepper, and brown sugar and salt. Rub over the boneless shoulder of pork
Put the pork in a big casserole dish, skin-side up, and pour in the cider.
Cover with a lid and cook in the oven at 150C for 4 hours, until falling apart. Check every hour in case it gets dry – if it does, add a little more cider.
Remove from the oven and put the meat in a big dish, leaving the liquid in the casserole. If there are a lot of juice then reduce over a medium heat to intensify its flavour.
Cut the skin off, then shred the meat using two forks. Remove any fatty bits.
Skim any excess fat off the surface of the sauce.
Add the Ballymaloe Steak Sauce to the casserole and mix it in.
Put the pulled pork back in the casserole and toss. Season to taste.
To make the red cabbage slaw, combine the cabbage, carrots and onions in a large bowl.
Stir in the Ballymaloe Balsamic and Irish Apple Cider Vinegrette.
Season with salt and pepper as needed.
Assemble your sandwich by splitting the ciabatta and either place on the BBQ to toast or under a grill. Top each base with pulled pork, red cabbage slaw and mixed leaves. Replace the lid and serve.