Macaroni Muffin Bakes with Ballymaloe Smoked Bacon Pasta Sauce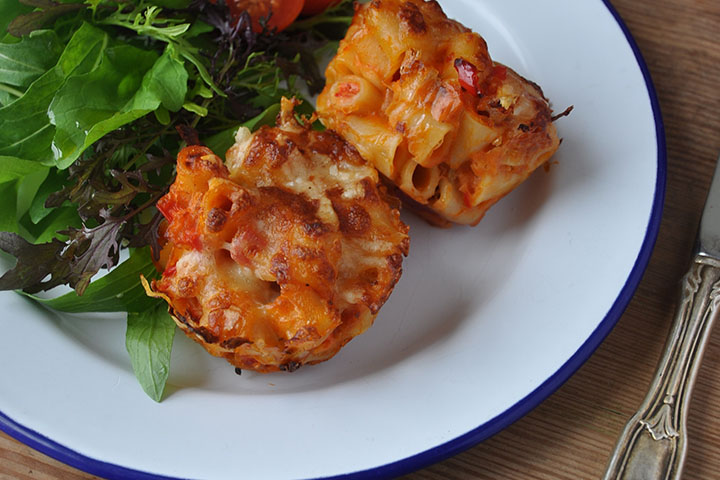 Cooking Time:

45 minutes - Preheat the oven to 200°C/400°F/Gas Mark 6

Serves:

6

Allergens:

Wheat, dairy
Description
The unique taste of rare-breed bacon (from just down the road) is what makes Ballymaloe Smoked Bacon Pasta Sauce such a firm favourite with families and it really makes its presence known in these marvellous Macaroni Muffin Bakes. Savour the flavours of Italy all in one perfect bite-sized portion. Buon appetito!
Ingredients
500g macaroni
Ballymaloe Smoked Bacon Pasta Sauce (4oog jar)
150g red pepper (finely-diced)
2 cloves garlic (finely-chopped)
4oz cream
30g Cheddar (grated)
30g Mozzarella (grated)
3 dessertspoons plain/cream flour
1 tbsp butter
1 tbsp olive oil
Extra virgin olive oil (for brushing two muffin tins/large tray-bake tin)
For your Cheesy Topping:
25g Cheddar (grated)
25g Mozzarella (grated)
15g Parmesan (grated)
Method
Preheat the oven to 200°C/400°F/Gas Mark 6.
Bring a large saucepan of water to the boil, add the salt and macaroni and boil for 3 minutes. Remove from the heat and allow to sit for 4 minutes with the lid on. Drain and set aside while you make the sauce.
In a separate saucepan, sweat the pepper and garlic in the olive oil and butter until soft but not coloured, and season well. Add in the flour and stir to combine. Cook off the flour for 3 minutes, while stirring continuously.
Add the Ballymaloe Smoked Bacon Pasta Sauce and gently stir. Pour a little water into the jar to release any sauce that was stuck and add this - with the cream - to the pan.
Bring the sauce to the boil and stir continuously until it thickens.
Stir in your Cheddar and Mozzarella, keeping a little aside for toppings.
Stir in the cooked macaroni, ensuring it is all coated evenly.
Place two heaped tablespoons of the mixture into each oiled muffin shape, pat down and bake for 15 minutes.
Remove from the oven, sprinkle your grated cheese trio on top, and return to the oven for a further 10 minutes.
Once golden and bubbling, remove from the oven and place the muffin trays on a wire rack, allowing them to sit for ten minutes before removing and serving with some Ballymaloe Original Relish on the side for dipping.