Spiced Beef Sandwich with Ballymaloe Relish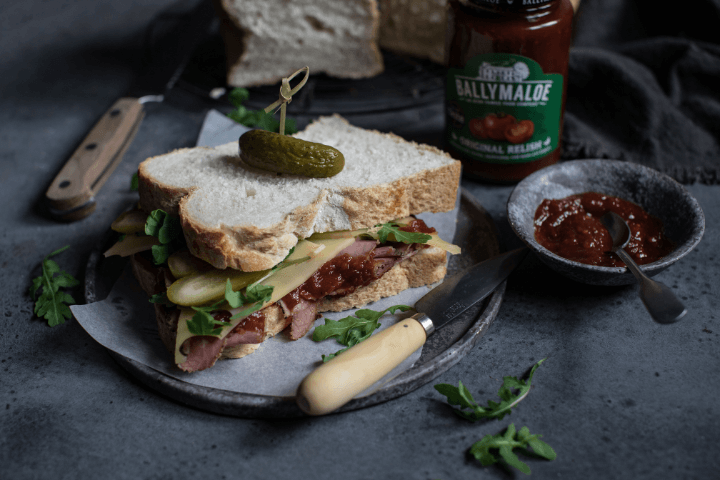 Cooking Time:

15 minutes

Serves:

1

Allergens:

Wheat, dairy
Description
While many may think of a Spiced Beef Sandwich as a festive treat – fear not! – it's available all year round due to its popularity. Spiced beef is at its best served cold and this sandwich lets it sing, with crunchy gherkins, creamy Cheddar, peppery rocket and the delightful tomatoes, spices & other carefully-selected ingredients that make Ballymaloe Relish creating the perfect finishing touch!
Ingredients
2 slices fresh crusty bread
Butter
4 slices spiced beef
1 large gherkin (whole)
3 large gherkins (sliced)
4 slices mild Cheddar
Handful of rocket
Ballymaloe Relish
Dietary Suitability
Contains wheat
Contains dairy
Method
Take your crusty bread and butter both sides all the way to the edges, then slather each slice with Ballymaloe Relish. Place the sliced spiced beef on the base, followed by the Cheddar, rocket and gherkins.
Pop your second slice of bread on top (as if you didn't know to do that!) and skewer your sandwich with a whole gherkin.