Spicy Vegetable Fajita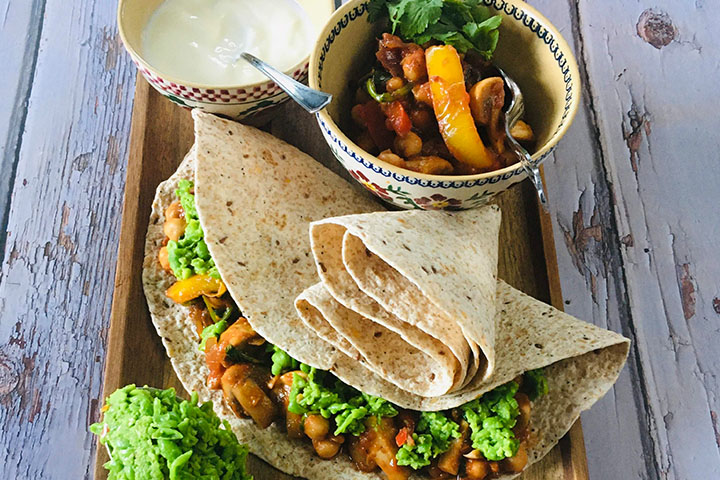 Cooking Time:

30 minutes

Serves:

4/6

Allergens:

dairy, wheat
Description
This recipe is packed with tasty vegetables and pulses, from red and yellow peppers and spinach to onions and chickpeas. We use Ballymaloe Spicy Italian Tomato Pasta Sauce as the base sauce as its mix of spices marries well with the fresh chilli and coriander. The pea guacamole is a really light alternative to avocado and most of the ingredients are kitchen staples. This is a filling and delicious vegetarian meal.
Ingredients
150g Frozen peas
1 tsp Salt
½ Teaspoon finely chopped red chilli
Lemon wedge for juice
150g Mushrooms (quartered)
Squeeze of lemon juice
100g Tinned chickpeas
50g Thinly sliced red onion
80g Sliced yellow pepper
80g Sliced red pepper
200g Ballymaloe Spicy Tomato Pasta Sauce
80g Baby spinach leaves
60 ml water
1 Tablespoon olive oil
Small bowl of Natural yoghurt
Handful of fresh coriander
4/6 Medium brown seeded tortilla wraps
Method
First make the pea guacamole. Boil a pint of water and add a scant tsp of salt, once back to the boil stir in the peas. Cook on a high heat for 5 mins. It is important to retain 60ml of the pea cooking water so make sure to put it aside.
Once the peas are drained return them to the pot and take a potato masher and roughly mash the peas, add in the cooking liquid slowly and a half a tsp of chopped red chilli and a few drops of lemon juice. Taste and adjust if needed, may take a pinch of salt.
To prepare the fajita vegetable; heat the oil in a large frying pan and add the mushrooms, season with salt and pepper and quickly fry for 5 mins. Add the onions and mixed peppers and fry for a further 10 mins.
Sprinkle in the spices and a pinch of salt. Cook the spices for a further two mins.
Add in the Ballymaloe Spicy Tomato Pasta Sauce and the 60ml of pea cooking water along with the spinach and the chickpeas. Stir and cook for a further 5 mins or until the spinach wilts fully. Taste and adjust seasoning if necessary.
Warm the wraps in the oven for 10 mins at 160⁰C. Place the spicy vegetable filling down the centre of a warm wrap, top it with pea guacamole, coriander leaves and a drizzle of natural yoghurt. Wrap and serve.