Sri Lankan Beetroot Curry with Lamb Koftas and Turmeric Rice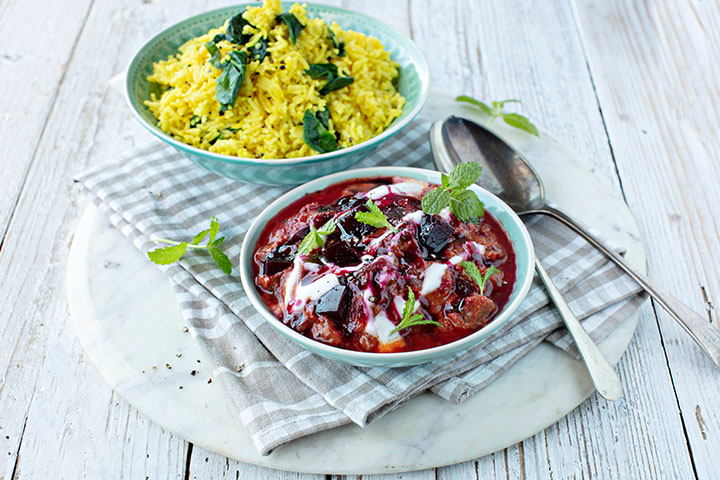 Cooking Time:

25 minutes

Serves:

4

Allergens:

dairy
Description
Sri Lankan beetroot curry is a dish that'll surprise you. Its mix of tomato, spice and the earthy goodness of Ballymaloe Irish Beetroot is one which is warming and comforting. Beetroot curry is a classic vegetarian dish and can be served as a main or side dish, but here we've matched it with some lamb koftas and rice. The finished meal also looks great, with the colour of the beetroot complementing the turmeric tones and mint.
Ingredients
Beetroot Curry:
415g Jar Ballymaloe Irish Beetroot
400g Can chopped tomatoes
2 Tablespoons mild, medium or hot curry paste
150ml Natural yoghurt
Koftas:
500g Lean lamb mince
1 Tablespoon mild, medium or hot curry paste
1 Spring onion, finely chopped
1 Garlic clove, crushed
Large handful mint leaves, half finely chopped
1 Tablespoon sunflower oil
Rice:
300g Basmati rice
1 Tablespoon turmeric powder
75g Baby spinach
Sea salt and freshly ground black pepper
Method
Pour the rice into a jug, note the volume and pour into a wide pan. Pour double its volume of boiled water into the pan, add the turmeric & a little salt. Bring to the boil, pop a lid on and reduce to simmer very gently for 10-12 minutes, or according to pack instructions, until the rice is tender and the water absorbed.
For the koftas, mix the curry paste, spring onion, garlic and the chopped mint really well into the lamb mince. Season and shape into 12 even sized cigar shapes before sliding each one onto a wooden skewer. These can be prepared the day before. Heat the oil in a large frying pan on a medium heat and fry the koftas for 6-8 minutes, turning regularly, until golden and cooked through.
Meanwhile, pour the canned tomatoes into a wide pan and add the curry paste. Drain the liquid from the beetroot into a small pan and stir the beetroot into the tomato sauce. Bring to the boil and then reduce to simmer for 3-4 minutes until thickened. Add all but a couple of tablespoons of the yoghurt and simmer for another minute.
Simmer the beetroot juice for 2-3 minutes until reduced and thickened to a syrup.
Once the rice is cooked, leave it in the pan and sit the spinach on top. Pop the lid back on and leave to wilt for a minute or two before stirring through.
Spoon the rice onto each serving plate. Top with three koftas and spoon the sauce over the koftas. Drizzle with the reserved yoghurt and beetroot syrup. Scatter the mint leaves over and serve at once.