Steak Tagliata Salad with Ballymaloe Steak Sauce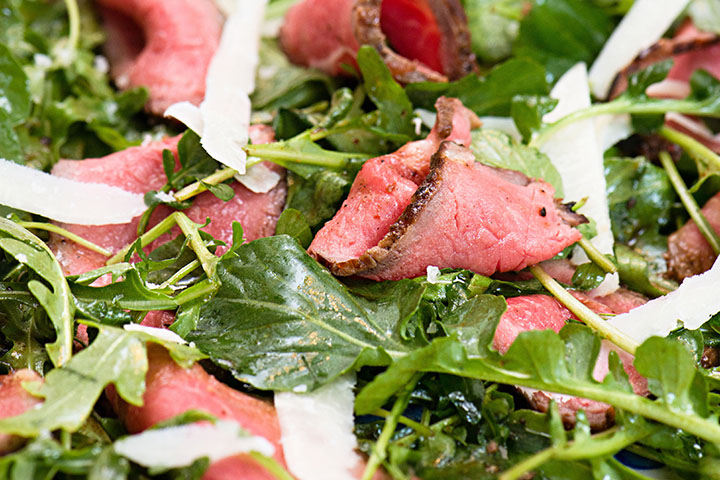 Cooking Time:

20 minutes

Serves:

4

Allergens:

Dairy
Description
This is our take on a classic Italian sliced beef dish, but given a new twist, courtesy of Ballymaloe Steak Sauce and Ballymaloe Balsamic & Irish Apple Cider Vinegrette. This recipe can be served as a starter or main course and, fun fact, 'tagliata' means 'cut' in Italian – the perfect titbit to start the conversation at your next dinner party.
Ingredients
4 x 175g sirloin or fillet steaks
110g rocket leaves
1 garlic clove
Salt & freshly-ground black pepper
Olive oil
Parmesan shavings
Ballymaloe Steak Sauce
Ballymaloe Balsamic & Irish Apple Cider Vinegrette
Method
About an hour before you want to cook your steaks, remove them from the fridge. Cut the garlic clove in half and rub it on both sides of each steak, to intensify the flavour.
Grind some black pepper over the steaks and sprinkle with a few drops of olive oil.
Turn the steaks in the oil and set aside to allow them to come to room temperature. If using sirloin steaks, score the fat at 1 inch intervals. Heat a griddle pan until very hot. At the last minute, season the steaks with a little salt and put them on to the griddle - remember when cooking a sirloin steak to turn it over onto the fat side and cook for 3-4 minutes, or until the fat crisps up nicely.
Cook for 3 minutes on each side for a medium-rare result. For the last minute, baste the steak with a generous helping of Ballymaloe Steak Sauce and then allow it to rest for at least 10 minutes.
Place the rested steaks on to a clean chopping board. Slice the steak thinly with a sharp knife.
To assemble the salad, toss the leaves with your Ballymaloe Balsamic & Irish Apple Cider Vinegrette, and a sprinkle of sea salt & freshly-cracked black pepper.
Place the steak slices in and around the tossed salad. Drizzle with a little olive oil and top with Parmesan shavings.