Superfood Wrap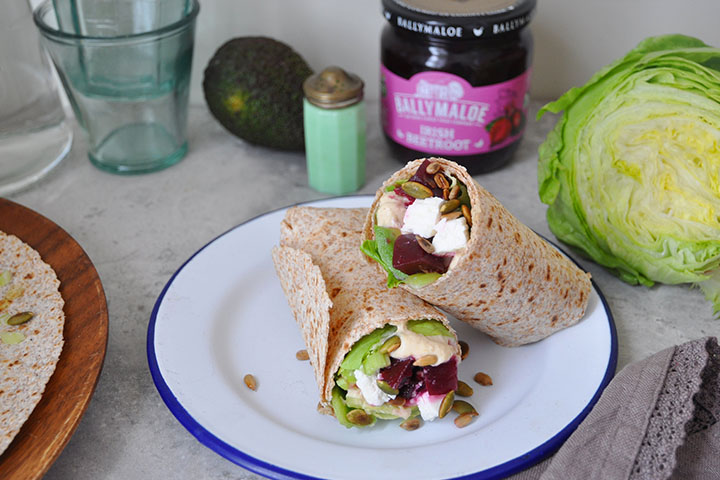 Cooking Time:

10 minutes

Serves:

1

Allergens:

dairy, mustard, wheat
Description
Exact measurements aren't essential for this superfood wrap. Just put in more of what you like most. The combination of Ballymaloe Irish Beetroot, hummus, grated carrot and Ballymaloe Honey and Mustard Dressing brings lots of different textures and flavours. Add in spinach and avocado for some extra superfood goodness.
Ingredients
Celery
Iceberg lettuce
Feta cheese
Tablespoon Grated carrot
Ballymaloe Irish Beetroot
Tortilla wrap
Chunky hummus
Baby spinach
A little sunflower oil
Avocado
Ballymaloe Honey & Mustard Dressing
Method
Chop up the celery and iceberg lettuce.
Cut the Feta cheese into cubes, slice the avocado, grate the carrot and drain the Ballymaloe Irish Beetroot.
To assemble the wrap, spread the hummus first and then pop everything else on top.
Shake your Ballymaloe Honey & Mustard Dressing well and then generously drizzle over the wrap.
Roll up, cut on the diagonal and serve.