Salad Plate with Ballymaloe Diced Irish Beetroot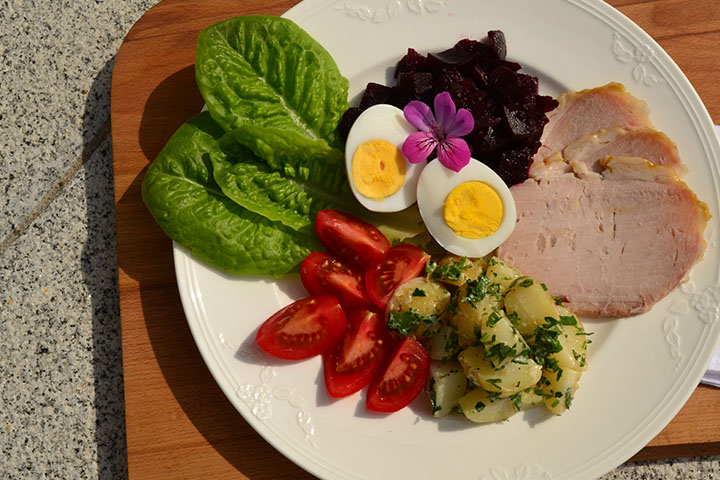 Cooking Time:

15 minutes

Serves:

1

Allergens:

Mustard, egg
Description
The wonderful thing about salads is that they can really include anything you like and, given a bit of help with a good sauce or dressing, never have to be dull. A very handy way of using up leftovers, a good salad combines health & taste with ease. We've picked one of our favourite combinations, but anything goes! Smoked fish, pâtés, pickles or crunchy vegetables can bring a depth of flavours and textures so feel free to make your salad your own. Our range of salad dressings can really add some zing to your salad – Classic French, Honey & Mustard or Balsamic & Irish Apple Cider Vinegrette – the choice is yours! Our Mayo has 2 purposes in this recipe: as a base for your potato salad and as a delicious dollop on top of the hard-boiled eggs!
Ingredients
2-3 slices baked ham/sliced roast chicken/avocado
2 tbsp potato salad (new potatoes, 20ml Ballymaloe Classic French Dressing, fresh herbs & 1 tsp Ballymaloe Mayo)
1 free-range egg (hard-boiled & peeled)
3-5 cherry tomatoes (halved and seasoned with a sprinkle of sea salt & freshly cracked black pepper)
A selection of salad leaves
1 tbsp Ballymaloe Diced Irish Beetroot (drained)
Method
Make the potato salad using new potatoes with plenty of fresh herbs, Ballymaloe Classic French Dressing and Ballymaloe Mayo. Season to taste.
Arrange all your salad components on a plate, keeping the eggs 'til last. Pop them on top with a generous dollop of Ballymaloe Mayo on the yolk and sprinkle with sea salt.
Serve the salad on its own or with some fresh brown soda bread and a dressing of your choice.