White Chocolate and Cranberry Prosecco Fudge Cake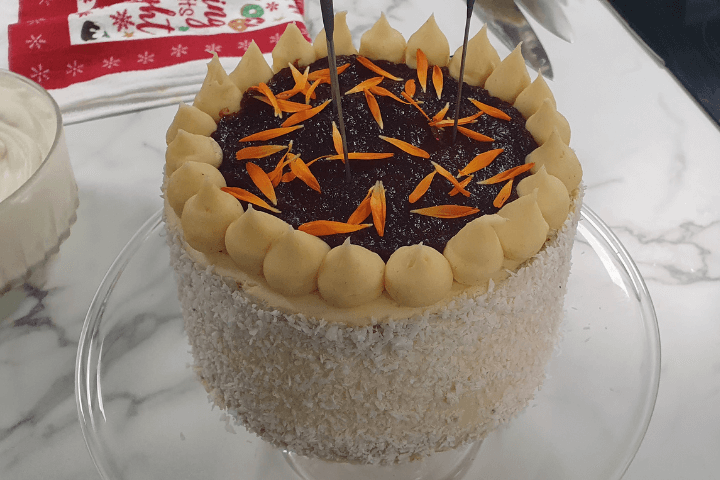 Cooking Time:

1 hr

Serves:

8

Allergens:
Description
Sweet and indulgent, this White Chocolate and Cranberry Prosecco Fudge Cake is perfect as a Christmas dessert. Ballymaloe limited edition Cranberry & Prosecco Sauce is rich in colour and has a delicious sweet taste.
You will need x4 7′ / 18cm sponge cake tins for this delicious cake.
Ingredients
250g butter
350g caster sugar
6 free-range eggs
350g plain flour
2 tsp baking powder
2 tbsp milk
For the filling:
Cranberry & Prosecco Sauce
White chocolate frosting:
Dessicated cocunut
White chocolate frosting:
700g butter softened
700g icing sugar sieved
250g white chocolate gently melted
Method
Preheat an oven to 190 degrees/gas mark 5. Grease the tin with melted butter, dust with flour and line the base of each with a round of greaseproof or silicone paper.
Cream the butter and gradually add the caster sugar, whisking until soft and light and quite pale in colour.
Add the eggs one at a time and whisk well between each addition. Sieve the flour and baking powder and stir in gradually. Mix lightly and add the milk to moisten.
Divide the mixture evenly between the prepared tins, hollowing it slightly in the centre. Bake for 20 – 25 minutes. The cake will shrink in slightly from the edge of the tins when cooked and the centre should feel the same texture as the edge. Alternatively, a skewer should come out clean when put into the centre of the cake. Turn out on to a wire tray: leave to cool.
To make the white chocolate frosting use a stand-up mixer and the paddle or 'K' beater soften the butter until light and white, gradually add in the sieved icing sugar and beat for 5 minutes. Gently melt the white chocolate and add this to the frosting. Beat until incorporated and smooth. Try not to eat it before using it on your cake!
Sandwich- ice the base all the way to the edges then pipe a ring of frosting around the edge and spread the inside of the circle with cranberry and prosecco sauce, pop on the next cake and continue this process for three layers in total.
The final layer is the lid. Once this is on ice the entire cake as smoothly as you can, top and sides.
Place the cake on the most Christmassy plate you own. With the remaining frosting pipe, a beautiful garland around the edges of the cake on the top. Cover the sides of the cake with desiccated coconut (if you do not like coconut leave this out, it is not essential) and pipe a beautiful garland around the bottom of the cake.
Fill the closed circle of piping on the top tier with more prosecco and cranberry sauce. To finish adding sparklers and glitter for maximum effect.