Summertime Salads with Ballymaloe Salad Dressings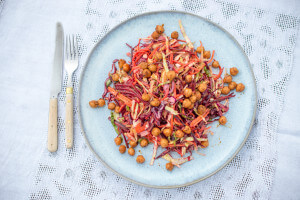 The temperature is rising, the skies are blue and the sun is shining so there is no better time to pull the chairs and table outside and enjoy a fun lunch in the sun. As you are soaking up some vitamin D, why not enjoy a tasty summer salad with Ballymaloe Salad Dressings. Did you know that both of our salad dressings are made with Greek cold pressed extra virgin olive oil, an ingredient that along with being absolutely scrumptious is also good for your skin?! Ballymaloe Salad Dressings are available in Dunnes Stores, SuperValu, Tesco and good food stores nationwide.
Steak Tagliata Salad
Ingredients
(Serves 4)
4 x 6 oz (175 g) sirloin or fillet steaks
1 garlic clove
Salt and freshly ground black pepper
A little olive oil
110g bag of rocket leaves
Ballymaloe French Dressing
Parmesan shavings
Ballymaloe Steak Sauce
Method
About 1 hour before you want to cook your steaks, remove them from the fridge. Cut the garlic clove in half and rub it on both sides of each steak. This simple step intensifies their beefy flavour. Grind some black pepper over the steaks and sprinkle with a few drops of olive oil.  Turn the steaks in the oil and set aside to allow them to come to room temperature. If using sirloin steaks, score the fat at 1-inch intervals. Heat the griddle pan until very hot, season the steaks with a little salt and put them onto the griddle. When cooking a sirloin steak, also turn it over onto the fat side and cook for 3-4 minutes or until the fat crisps up nicely. Cook for 3 minutes on each side for medium rare. For the last minute baste the steak with some Ballymaloe Steak Sauce. It is important to rest your steak. This is the secret to a really juicy steak. Put your steaks onto an upturned plate resting on another plate and leave them for a few minutes in a warm place. Slice the steak thinly with a sharp knife. To assemble the salad, gently toss the leaves with a little Ballymaloe French dressing. Top with the slices of Ballymaloe Beef Tagliata and shavings of parmesan.
Shredded Superfood salad with spiced chickpeas and Ballymaloe Honey & Mustard Dressing
Ingredients
( serves 2)
2 carrots, julienned
1 handful of Irish beetroot, shredded
2 handfuls of red cabbage, finely shredded
2 tbsp mint, chopped
200g of canned Chickpeas, drained
½ tsp ground cumin
½ tsp chilli powder or ground cayenne pepper
A little olive oil
3 tbsp Honey & mustard dressing
Method
Combine the shredded beetroot, carrot, red cabbage and mint and set aside. Heat a little olive oil over a medium high heat, add the chickpea, after a minute add the ground spices turning until the chickpeas are fully coated.  Toss the salad with Ballymaloe honey & mustard dressing and top with the spiced chickpeas and a few extra mint leaves.
Summertime Tomato Salad
Ingredients
8 large ripe vine tomatoes
20g parsley, chives, basil or your favourite herbs lightly chopped
4tbsp Ballymaloe French dressing
Method
Irish tomatoes are so delicious when they're in season, lightly dressed with French dressing and herbs they make a great salad.
Slice the tomatoes or cut into wedges. Gently toss in the Ballymaloe French dressing, add the chopped herbs and give it one last mix. Add a little finely diced red onion if you like
Avant-Garde Avocado
Make sure your avocado is ripe but not over ripe. You should feel it give slightly when you press the skin with your finger.
Cut the avocado in half and remove the stone. Fill up the well where the stone was with Ballymaloe Honey and Mustard Dressing. Enjoy!