Ballymaloe Christmas Recipes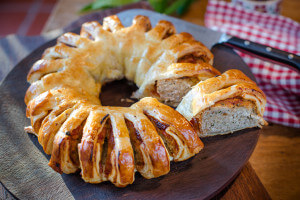 Christmas is a hectic time of year- houses buzzing with relations, the eating and drinking and of course all of the gifts-it's no wonder we all end up exhausted by the time the New Year arrives! Ballymaloe Original Relish is here to help! Whether it's to impress the grown-ups or satisfy the younger fussy eaters, there are plenty of ways to enjoy Ballymaloe Relish this festive season!
Christmas Sausage Roll Garland
This scrumptious, crumbly sausage roll is an impressive center-piece for a festive brunch. Your guests will get a real kick out of pulling off their own individual delicious piece!
Ingredients
For the sausage mix:
      225g lean pork, minced
      225g pork fat, minced
      1 clove garlic, crushed
      1-2 tsp thyme, marjoram, basil and rosemary, mixed and chopped
      1 egg, beaten
      1 ½ cups soft breadcrumbs
      Salt and pepper to taste
      For the pastry:
      300 -350g all butter puff pastry
      Ballymaloe Original Relish
      1 egg, beaten
      A little milk
 Method: Preheat the oven to 180°C/350°F/Gas Mark 4. Combine all the ingredients for the sausages together and mix well. Fry a little of the mixture in a pan to check the seasoning, adjust if necessary. On a floured work surface, roll the pastry out into a big rectangle, a little thicker than a one euro coin. Roll the sausage mixture into a sausage shape with your hands and lay it lengthwise on one side of the rectangle. Spread  Ballymaloe cranberry sauce over the pastry, leaving the last ¼ free for sealing.  Roll the sausage and pastry into tube, pressing the seam together. Join both ends together forming a circle, pressing to seal tightly.  Mix the egg and milk and brush the pastry with the mixture. Using a sharp knife, score through the garland to within 1cm of the inside, at 2.5cm intervals. Decorate and place on a baking sheet. Bake in the preheated oven for 25 minutes or until puffed, golden and cooked through. Serve with Ballymaloe Original Relish.
Rachel Allen's Rustic Christmas Sandwich
Everybody knows that Boxing Day lunch can match or even better the main event on Christmas day. The pressure is off and a mellow, food induced calm descends on the house. This is no ordinary sandwich-it looks incredible and tastes even better!
Ingredients
Cob loaf or any round, unsliced white loaf
Ballymaloe Original Relish
Mayonnaise
Rocket Leaves
Sliced Turkey
Stuffing
Sliced Ham
Sliced Cucumber
Sliced Tomatoes
Take the bread loaf and cut off the top by cutting horizontally around ¾ to an inch deep into the bread, creating a lid. Reserve this lid for later.
Remove the bread from the inside the loaf, leaving a 1 inch border. (Reserve the breadcrumbs for making stuffing). Spread the inside with Ballymaloe Relish.
Cover the base in layers, begin with rocket leaves; sliced turkey; a smear of relish and mayo; followed by stuffing; sliced ham; cucumber; and sliced tomatoes.
Continue this regime until the loaf is full. Put the lid of the loaf back in place. Wrap very tightly in cling film. The key to the presentation of this sandwich is to place a heavy weight to keep it compressed to prevent the ingredients falling apart.
Refrigerate for 1 hour or overnight. Allow 10 -15 minutes to bring the sandwich back to room temperature. Optionally, you can heat this in the oven for 5 minutes or so to serve warm.
Slice the Christmas Sandwich Cake into wedges to serve – just like a cake.
Ballymaloe Relish Eggs
These delicious relish eggs are sure to impress. They are perfect with cold meats, making them an ideal Boxing Day dish!
Ingredients
Serves 6
6 hard boiled organic eggs
50g (2oz) soft butter
1 tablespoon Ballymaloe Original Country Relish
salt and freshly ground black pepper
Garnish
tiny sprigs of watercress or chervil
Method
When the eggs are cold, shell them and slice in half lengthways. Sieve the yolks into a bowl, add the soft butter and relish and mix well. Taste the mixture – it may need a little seasoning. Fill into a piping bag with a 2.5cm (1in) star nozzle.
Pipe a rosette of the mixture into each egg white. Garnish with the watercress or chervil. Serve as a starter on a bed of salad leaves. Alternatively, serve as part of a selection of stuffed eggs.
Ballymaloe Breakfast Brioche Bun
Ingredients
Good quality sausages, bacon, black pudding
Free range eggs
Brioche Bun
Ballymaloe Relish
Method
For a delicious breakfast, use good quality bacon, sausages and pudding and free range eggs, if possible. Strain off any bacon fat left over from cooking and reserve for frying eggs. Gently stack the black pudding, sausages, eggs and bacon inside the brioche bun. Serve with Ballymaloe Relish.
Christmas Cheese Fondue
A Christmas twist on a classic cheese fondue…this tempting recipe will have everyone gathered around the table in no time!
Choose your seat carefully! It is said that if you drop your bread into the fondue pot you must kiss the lady or gentleman on your right!
Ingredients
(Serves 1)
85g(3oz) mature cheddar cheese, grated
1 tbsp dry white wine
½ a small clove of garlic, crushed
1 tsp chopped parsley
1 tsp Ballymaloe Relish
Crusty white
Leftover Baked Ham or turkey cut into cubes
Method
Cut crusty white bread into cubes and toast them in the oven. Place the wine, garlic, Ballymaloe Relish and parsley in a fondue pot or small saucepan, stir, then add the grated cheese. (It can be prepared ahead up to this point) Just before serving, put over a low heat until the cheese melts and begins to bubble, do not stir it too much while it is cooking otherwise the mixture may split. Serve the fondue immediately with the toasted bread and Christmas Ham.