Ballymaloe Foods Celebrate Award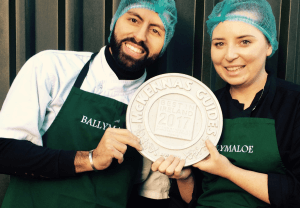 Ballymaloe Foods are proud to announce that we have received the McKenna's Guides Award for 2017. Pictured above Niamh and Francesco, the newest members of our team are delighted to show off our award! A big Thank You goes out to John and Sally McKenna for this award.
We have big news for Ballymaloe Relish fans down under….Ballymaloe Original Relish is now available in over 170 Woolworths stores across Australia! Gone are the days of wrapping up jars in jumpers and hoping they survive the journey! We are delighted to be able to offer a taste of home to Irish sons and daughters living in the other side of the world. Unfortunately, we can't send their mammies to help them cook the supper, but we hope that the recipe section on our website can lend a helping hand! Who knows, maybe the Irish will be leading the way on the BBQ scene and showing  their Aussie mates how Ballymaloe Original Relish is the ultimate secret ingredient in a beef burger! If you're more of an online shopper, Food Ireland also sells Ballymaloe Relish online to our Aussie friends.
Maxine has been globetrotting for the past two weeks! First to the Aviva Stadium in Dublin where she was preparing lots of lovely samples and meeting lovely Irish foodies at the Good Food Ireland event and then all the way to GAST,  Salzburg in Austria to let the Austrians sample Ballymaloe Relish! Conquering the world, one jar at a time!