Ballymaloe Secret Products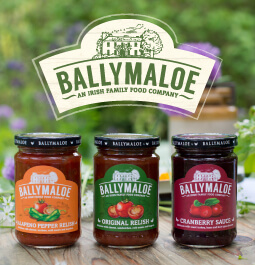 Before I began my 6 month work placement with Ballymaloe I associated the brand with one iconic product- The Original Country Relish. I was also a big fan and a regular purchaser of the Jalapeno Pepper Relish and the delicious salad dressings, in particular the Honey and Mustard dressing which is my favourite!
I was not aware of the full extent of the product range. To my delight there are many more delicious Ballymaloe products available!
Ballymaloe Steak Sauce.
This delicious sauce made with black rock stout from the Dungarvan Brewing Company has the potential to overtake the Original Relish as my favourite Ballymaloe product! The unique flavour of this sauce makes it a perfect accompaniment to all types of red meat, either as a serving on the side or as a marinade. It also tastes amazing with chicken and pork especially when grilled on the BBQ! Available in a 250g and 375g bottle the Steak Sauce has been selling very well in Germany and the Netherlands in recent years. It is now beginning to enter the Irish market and will hopefully be on shelves in all Irish supermarkets in the near future! Watch this space!
Ballymaloe Beetroot.
The newly launched diced and pickled beetroot grown locally in East Cork on Joe Hartnett's farm makes any salad taste amazing! Pickled in white wine vinegar and sugar, Ballymaloe Irish beetroot tastes unlike any other beetroot product. We believe it is the absence of artificial preservatives and flavourings and the locality of the beetroot which gives Ballymaloe Irish Beetroot it's fresh, earthy taste perfectly off set by the sweet pickle. This dark purple vegetable is currently having it's moment in the spotlight with nutrition experts, dieticians, celebrity chefs and bloggers singing the praises of this highly versatile vegetable. High in nitrates and antioxidants beetroot is said to have a positive affect on heart health. A perfect excuse to tuck into a delicious jar of Ballymaloe beetroot! Available in a 425g jar in Dunnes Stores, Supervalu and good independent food stores nationwide.
Ballymaloe Seville Marmalade
This delicious marmalade is a classic recipe from Ballymaloe House. Seville oranges are slow cooked in small batches for maximum flavour. Delicious served with brown soda bread and a cup of tea!This marmalade is only available in local food stores in East Cork making it an exclusive treat for anyone who is lucky enough to get their hands on some!
Ballymaloe Apple Sauce
This gorgeous sauce made using Bramley apples tastes amazing with any type of pork dish. It's the perfect alternative to gravy for the Sunday dinner! It's the addition of just a hint of wholegrain mustard which makes this apple sauce the perfect mixture between sweet and savoury. It can even be served with crackers if you're feeling lazy and are looking for a quick tasty snack!
Ballymaloe Ham Glaze
For any one looking to liven up their roast this is the perfect condiment for you! Ballymaloe Ham Glaze is made using only the finest natural ingredients and no artificial preservatives or flavourings, which is the ethos of the company. Blackrock stout from the Dungarvan brewing company and wholegrain mustard gives this product it's unique taste. Delicious glazed on ham or roast beef it can also be used as a marinade for steak. This old fashioned type glaze is a classic product that I'm sure will become a cupboard staple as soon as it becomes widely available in stores!
Article by Nicola Curran-UCC Food Marketing and Entrepreneurship student.