Ballymaloe's Summer in the UK so far!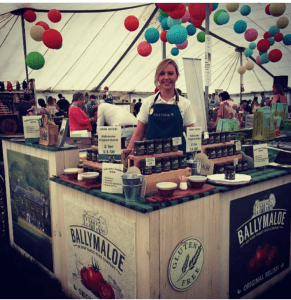 We have been having an amazing time taking Ballymaloe Relish on a road trip around the U.K this Summer! June and July were choc-o-bloc with country fairs and summer shows where we received a warm welcome from every person that we met.
August has also been a hectic month. The Shrewsbury Flower Show was a fantastic event, where the most beautiful flower displays, entertainment and tasty food stalls came together to provide something for everyone!
The Pembrokeshire Show, which took place the following weekend, was an another super event which spanned over three days. Showcasing the best of the area we were thrilled with the reaction we received from the Welsh people towards our Relish!
We finished off the month with a bang at none other than the big Feastival event in London! This world class event presented by Jamie Oliver and Alex James took place in the Cotswolds and was certainly one of the best foodie events Ballymaloe Relish has ever had the pleasure of being at! A wonderful weekend of food and fun for all the family we thoroughly enjoyed the Feastival and hope to return next year.
We have a few days rest before the Ballymaloe Relish caravan is back on the road! The Chatsworth Country Fair is taking place from Friday September 4th-Sunday September 6th in the grounds of the gorgeous Chatsworth House. We will be in the Fine Food Village in the company of none other than Mary Berry! There will be a whole host of fantastic cookery demonstrations taking place over the weekend. Please stop by our stand to say hello while you are on your way!