Busy Week for Ballymaloe Foods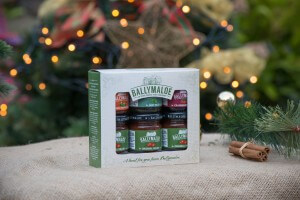 It has been a busy week for us here at Ballymaloe Foods. The first few batches of our Cranberry Sauce are hot off the cookers as we begin to plan the annual (I won't mention the dreaded C-word as it is not yet Hallowe'en!!) winter demand. Yes this time of year does mean we make THOUSANDS of our 'Mini Jars' for Gift Packs. Extreme patience is always required for this and our team have been very calm and collected as they were tasked with assembling these Gift Packs.
In case you didn't know, October 7th is National Potato Day…a whole day dedicated to our favourite national treasure! If you need some inspiration to celebrate this fantastic day, just clink this link ( http://ballymaloefoods.ie/official-recipe/baked-potato-with-grated-cheddar-and-ballymaloe-country-relish-2/ ) to discover our recipe for Baked Potatoes with Grated Cheddar and Ballymaloe Original Relish.
Looking to this weekend we will be getting some sea air and of course offering plenty of samples at the 40th Kinsale Gourmet Festival. If you are in the area make sure to sign up for an event or two, the itinerary looks fantastic! For more information check out their website   ( http://www.kinsale.ie/event/40th-kinsale-gourmet-festival-2016/ )