DIY – Reuse our Glass Jars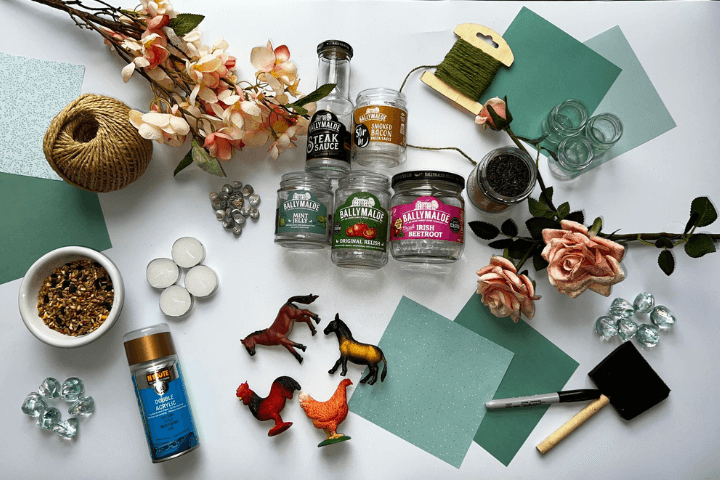 Reusing glass jars
There are so many creative ways to reuse glass jars within your home. We want to show you some fun ways to reuse some of our different jars with materials you might already have at home. The average household in Ireland goes through 500 glass bottles or jars each year which is an astonishing figure. Glass is 100% recyclable so don't worry, once it's recycled correctly it can be reused over and over again. Information on recycling glass is at the bottom of this blog.
Removing Labels
First things first, you might want to remove the labels from the jars to have a clean slate for your creative DIY projects. We have found the easiest way to remove labels from our jars.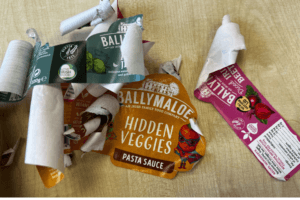 1. Wash out your glass jar and make sure all of the residue is removed. If you have a dishwasher, put the jars in as you would a glass and you will have a nice, clean jar.
2. Boil the kettle.
3. Place a teaspoon in each of the jars.
4. Pour the boiling water into the jars, the teaspoon prevents the glass from cracking with the hot water.
5. Leave the water sit for 10 minutes.
6. Then, simply peel off the label. If you find there is still some glue residue on the jar, then a dash of fairy liquid and baking soda will remove the glue from the glass.
Materials we used to create some of our DIY products:
Selection of glass jars
Superglue
Twine
Fake flowers
Coloured string
Tea lights
Lace
Spray paint
Figurines
Shells / stones
Other Ways to Reuse Jars
Use as a piggy bank to save coins
Store cotton buds and cotton pads
Pickle vegetables
Fill with a bit of soil and plant a bulb
Use for overnight oats
Store nuts and seeds
Store herbs and spices
Freezing soups and broths
Salad dressing shaker
DIY cosmetics
Sewing kit and button holder
Storage for nuts & bolts
Recycling glass jars
Glass is 100% recyclable and can be recycled time and time again without loss in quality. It is so important to recycle glass jars and not put them in the normal waste bin as it would take 1 million years for a glass bottle to completely break down under normal landfill conditions. – My Waste
If you don't have a glass bin at home, don't fret, there are thousands of 'bring banks' across the country where you can recycle your glass jars. Find a local glass bin near you.
You don't need to remove the labels from the jars as this will be done in the recycling process. Clean out the glass jars and let them dry, you can then recycle with them with or without the lid.