Good Living Ballymaloe Relish Lucky Run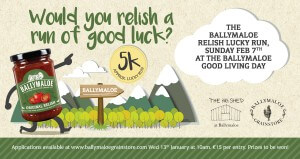 We are delighted to be sponsoring
The Ballymaloe Good Living day on
Sunday 7th February
at The Ballymaloe Grainstore is all about investing in Good Health and Health Living. The Ballymaloe Good Living day will offer the chance to learn about everything from Art Therapy, universal energy arts to kite surfing. There will be nutritional advice from Rachel and Darina Allen among others and information on Dyslexia and much more. Food stalls will be catering for visitors throughout the day and there will be plenty of stalls to browse for both shopping and learning. A day of inspiring talks (all talk entry included in ticket price) on everything to do with enhancing your lifestyle both mentally and physically. The Ballymaloe Good Living day objective is that visitors leave that evening with at least one new life enhancing idea or thought to carry forward in 2016 and always.
In the afternoon of the Ballymaloe Good Living Day and to celebrate and rewards the joys of movement – Ballymaloe Relish are sponsoring a Ballymaloe Relish Lucky Run. Entry for this Lucky fun run is €15 per person and this includes entry to the Ballymaloe Good Living day. Cash prizes available and not just for the fastest runner!
Tickets available online at www.ballymaloegrainstore.com from 10am on Wednesday 13th January and is limited to 200 entries – race registration,for those lucky enough to have secured a place, will be at 2pm on Sunday 7th February in The Big Shed and the 5km (approximately) fun run will start at 3pm. We look forward to seeing ye there.
BEST OF LUCK!