Origin Green Sustainability Programme- Gold Member 2021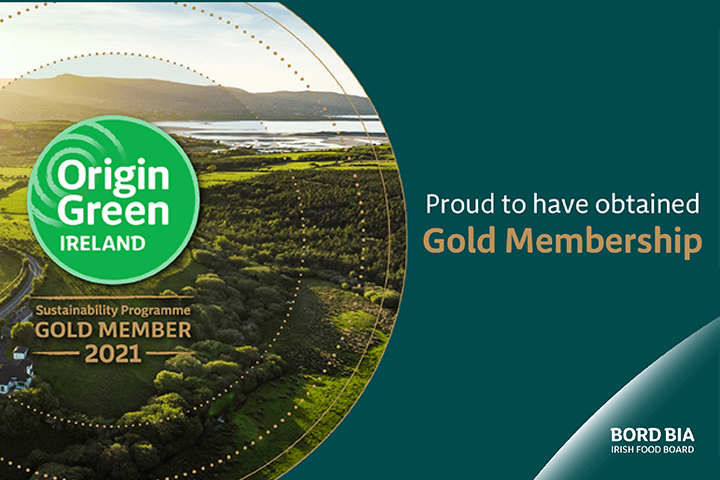 We are so pleased to be officially announced as an Origin Green Gold Member as part of the 2021 BordBia Sustainability Programme. It's great to be able to finally shout about this great achievement. Gold Membership is the highest form of membership a company can attain in any given year and we are so thrilled our efforts have warranted us this award.
How did Origin Green choose these Gold Members?
Mabbett, an independent verification authority assessed Origin Green companies based on sustainability targets set in the annual performance. The criteria included were raw material sourcing, water and energy efficiency, waste reduction, packaging and social sustainability.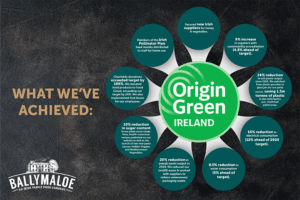 What has the Ballymaloe Foods team achieved in terms of sustainability?
Packaging
• 24% reduction in soft plastic output since 2018. We switched from plastic pouches to glass jars for our pasta sauces, saving 1.3 tonnes of plastic & also switched to pre- stretched pallet wrap.
Water and Energy Efficiency
• 16% reduction in electrical consumption (12% ahead of 2020 target).
• 8.5% reduction in water consumption (5% ahead of target).
Waste Reduction
• 20% reduction in overall waste output in 2020. We reduced our landfill waste & worked with suppliers to reduce unnecessary packaging waste.
Social Sustainability
• Charitable donations exceeded target by 186%. We donated food products to Food Cloud, exceeding our target by 24%. We also implemented fruit boxes for our employees.
• 10% reduction in sugar content in our pasta sauce range. New, health-conscious recipes published on our website as well as the launch of two new pasta sauces: Hidden Veggies and Mediterranean Vegetables.
• Members of the Irish Pollinator Plan Seed-bombs distributed to staff¬ for home use.
Raw Material Sourcing
• Secured new Irish suppliers for honey & vegetables.
• 9% increase in suppliers with sustainability accreditation (4.8% ahead of target).
As a token of our appreciation, and to celebrate our Gold Membership, Ballymaloe Foods have sponsored the planting of 50 trees in Ireland by Easy Treesie, which helps children to plant trees on local public lands. Easy Treesie aims to plant 1 million trees in Irish soil by 2023, with Ireland's 1 million schoolchildren and their communities. To find out more, please visit www.easytreesie.co