Pasta Day at Midleton College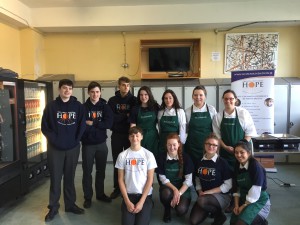 Last Tuesday the 7th of February saw us heading down to Midleton College for their annual Pasta Day in aid of The Hope Foundation. Midleton College has a long standing association with the Hope Foundation as they support a Night Ambulance in Calcutta, India. This Night Ambulance helps the most vulnerable street children and adults get access to medical attention. As many of these people have never even been in a car before, they can be nervous of travelling by Ambulance to a hospital and so Midleton College will be supporting a new initiative to have a full time doctor on-board the ambulance so that patients can be looked after on the street.
Around 250 students signed up for a pasta lunch with Ballymaloe Pasta Sauce. Seibhe and Niamh traveled down to help the 4th year students dish up the pasta. All in all it was a fantastic success and over €750 was raised for the Hope Foundation.
We wish safe travels to the 4th year students who are travelling to Calcutta with The Hope Foundation. We would also like to express our gratitude to Martin Preston for organising this fantastic event every year.
If you would like to donate to The Hope Foundation or are interested in learning how you can get involved,  please click here. Thank you!