Beetroot & Sweet Potato Dip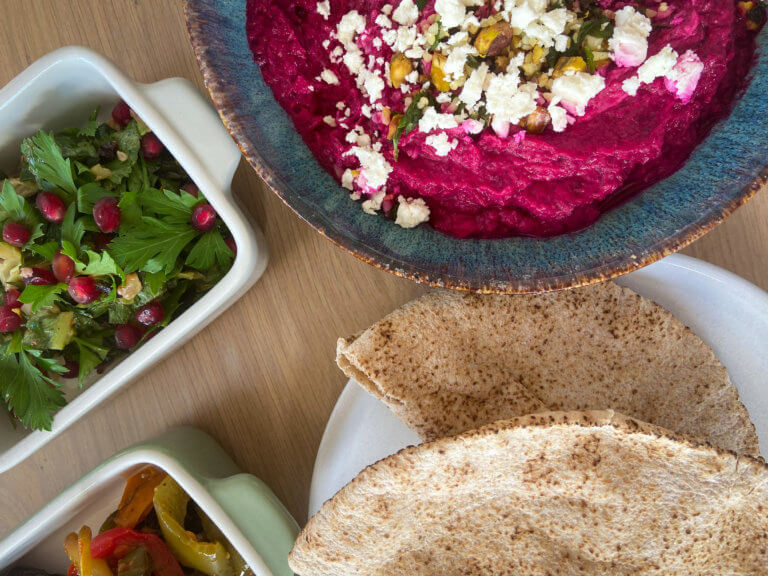 Cooking Time:

1 hr 30 mins

Serves:

4

Allergens:

contains gluten & dairy
Description
A delicious Ballymaloe Beetroot and Sweet Potato dip topped with feta and a bulgur, pistachio, and herb salad. This is delicious served as part of a Mezze platter.
This recipe is courtesy of Pia Crofton.
Ingredients
1 baked sweet potato
2 beetroot, pre-cooked
200g drained Ballymaloe Diced Beetroot
100 ml olive oil
1.5 tbsp fresh lemon juice
4 garlic cloves, crushed
1 tbsp honey
1/2 tsp toasted ground cumin
1/2 tsp toasted ground coriander
Pinch of ground allspice
50g thick Greek yoghurt, plus an extra 50g to garnish
250g sachet of cooked mixed grains
15g chopped parsley
15g chopped mint
40g chopped pistachios
Ballymaloe French Dressing
80g feta cheese
Method
Preheat your oven to 220°c. Wrap the sweet potato tightly in tin foil and cook for 1 hour or until a skewer or knife is easily inserted.
Take your sachet of cooked grains. Add to a bowl with 1 tbsp of Ballymaloe Classic French Dressing, the lemon juice and 50ml of the olive oil. Taste for seasoning. Combine & set aside to allow the grains time to soak up all the lovely juices.
Heat a pan to medium and add 50ml of the olive oil. Add the crushed garlic and fry for 2 minutes until the garlic is lightly golden. Tip this and the flavoured oil into a food processor.
While the pan is hot, lightly toast your spices and add these and the honey to the processor.
Add your cooked beetroot to the processor along with the drained Ballymaloe beetroot. Blitz until it becomes a thick paste. Then peel back the skin from the cooked sweet potato and scoop out all of the flesh into the food processor. Give it a few pulses until it is broken down and combined. If you like texture in your dip, don't over blitz!
Remove the blade from the processor and stir in the Greek yoghurt. Taste and adjust seasoning if necessary. Place in a large serving dish and spread over the base.
Top with the remaining 50g of Greek yoghurt and marble it through with a spoon.