Chicken & Pesto Panini with Ballymaloe Pepper Relish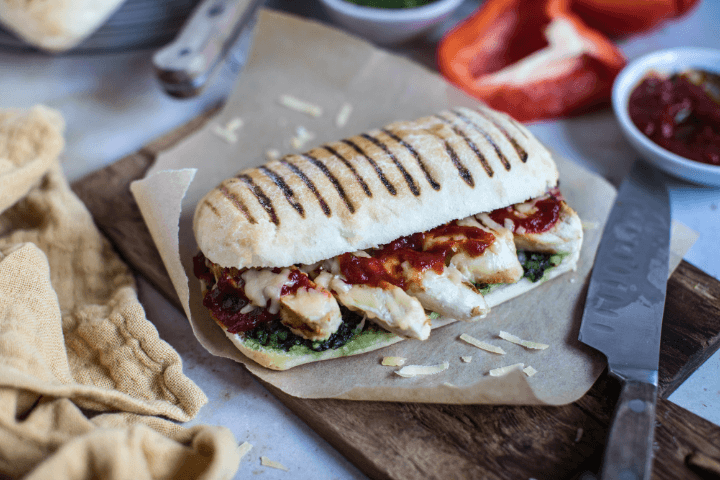 Cooking Time:

15 minutes

Serves:

1

Allergens:

Contains gluten, contains dairy, mustard seeds
Description
This panini is delicious with leftover roast chicken from Sunday lunch or even a perfectly pan-fried chicken breast or leftover roast pulled chicken from drumsticks. The combination of relish, pesto, and an aged cheddar has certainly become a family favourite of ours.
Ingredients
1 Panini
1/2 a grilled chicken breast (sliced)
75g of cheddar cheese
1 tbsp. of pesto
1 tbsp. of Ballymaloe Original Relish
Dietary Suitability
Contains Gluten
Contain Dairy
Contains Mustard seeds
Not suitable for Vegans/Vegetarians
Method
Take your panini bread, cut open but allow it to 'hinge' meaning one side remains intact, toast under a grill until golden brown.
Slather the lid in Ballymaloe Original Relish and the base in your preferred pesto.
Top the base with delicious slices of grilled chicken and cheddar cheese.
Spread over an extra teaspoon of Ballymaloe Original Relish and close.
Pop the panini under the grill until golden brown and fully heated through.
Serve with a green salad or on its own and enjoy!