Festive Cranberry and Lime Pastry Pockets with Ballymaloe Vodka Cranberry Sauce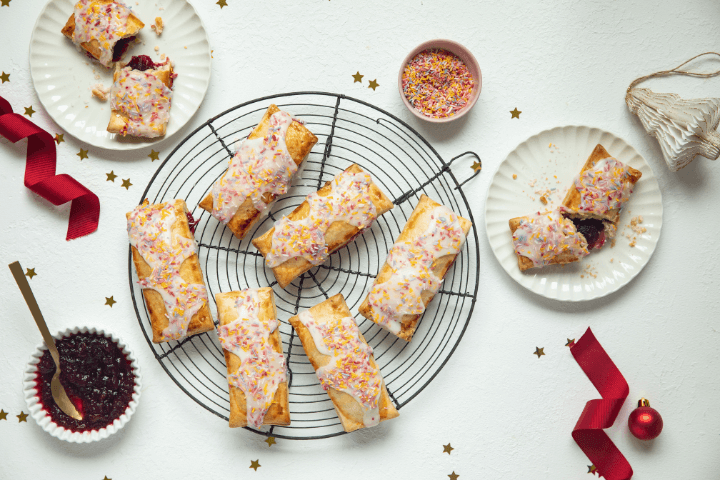 Cooking Time:

30 minutes

Serves:

Makes 10

Allergens:
Description
This fun recipe makes delicious parcels of pastry filled with a sweet cranberry sauce, topped with lime icing and more sprinkles than you thought you needed! These festive tarts are fun and easy to make. The Ballymaloe Vodka Cranberry Sauce makes them extra delicious but don't worry the alcohol has been boiled off so all you get is great taste – quick and easy to make!
Ingredients
2 x 320g sheets of Jus-Rol shortcrust pastry, defrosted
1 egg, beaten
Ballymaloe Vodka Cranberry Sauce
For the lime glaze icing
250g icing sugar, sieved
1 tsp boiling water
Juice of 1 lime (use sparingly)
Lots of sprinkles
Method
Preheat the oven to 200°C/180°C fan/gas mark 8. Line two baking trays with non-stick parchment paper.
Carefully unroll the defrosted pastry sheets onto a lightly floured worktop. Cut each sheet into two rectangles lengthwise, then cut each strip into five short rectangles width-wise – you will have 20 rectangles, which will make 10 tarts. Brush each rectangle with the beaten egg.
Using 10 rectangles, spread a generous teaspoon of Ballymaloe Vodka Cranberry Sauce in the middle of each one to create the shape of a cocktail sausage, leaving a gap clear all the way around the edges.
The remaining 10 rectangles are now the lids. Put one rectangle on top of each of the filled strips, egg wash side down. Carefully remove the air by firmly pressing the edges together.
Transfer the tarts to the lined baking trays. Using a floured fork, seal all of the edges by crimping them together with the tines of the fork, making sure you leave obvious fork marks.
Brush the tops with a little more beaten egg, then bake in the preheated oven for 18–25 minutes, until beautifully golden. Allow to cool completely on a wire rack.
To make the glacé icing, mix the icing sugar with the boiling water and a little lime juice. It's important to make a thick icing, so add the lime juice sparingly. Spoon the icing onto the completely cool tarts – if the tarts are still hot, the icing will run off. Using the back of a teaspoon, edge the icing into the corners, then decorate with lots of sprinkles.