Chorizo & Cheese Twists with Ballymaloe Relish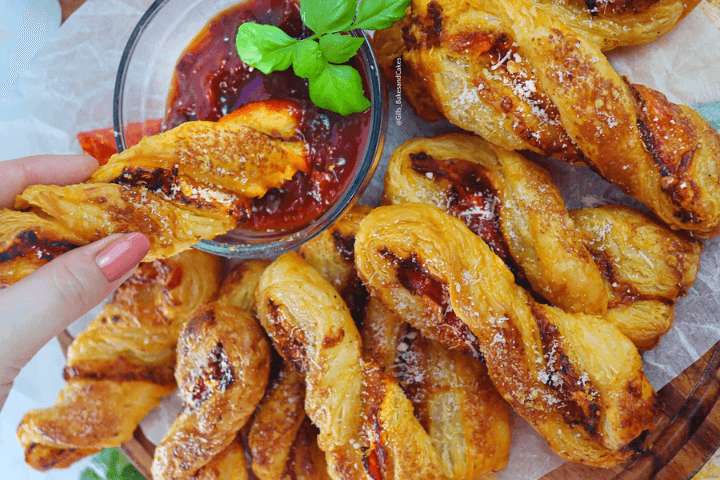 Cooking Time:

30 minutes - Preheat oven to 200°C/400°F/Gas Mark 6

Serves:

12

Allergens:
Description
These Chorizo and Cheese Twists are a super-simple and simply delicious recipe by Gills Bakes and Cakes and are made using only a handful of ingredients. This crisp puff-pastry is smothered in Ballymaloe Relish, then layered with chorizo and packed with cheese. Serve with extra Ballymaloe Relish as a dip and enjoy! Not sure how to twist your strips into shape, the photo above should make it easy… after all, a picture is worth a thousand words!
Ingredients
1 roll puff pastry
2 tbsp Ballymaloe Relish
12 slices of chorizo
Parmesan (grated)
Cheddar (grated)
1 free-range egg (beaten with a little water / milk to create an egg wash)
Method
Preheat the oven to 200°C/400°F/Gas Mark 6 and take your puff pastry out of the fridge 10 minutes before using.

Line a baking tray with parchment, then roll out your puff pastry (cut lengthways so you have two long strips).
Spread a layer of Ballymaloe Relish over one side of the pastry.
Layer on your chopped-up chorizo slices, then sprinkle with some grated Cheddar and Parmesan.
On the other side of your pastry, brush with the egg wash then fold over on top of your filled side. Gently press down and seal around the edges with your fingers.
Using a sharp knife, slice into 12 strips. Twist each strip 2-3 times then place on to your lined tray.
Brush each strip with the egg wash then sprinkle with some extra grated cheese.
Bake for approximately 15 minutes until golden brown.
Remove from the oven and allow to cool for a few minutes.
Serve with extra Ballymaloe Relish and enjoy!