Buddha Bowl with Ballymaloe Fiery Relish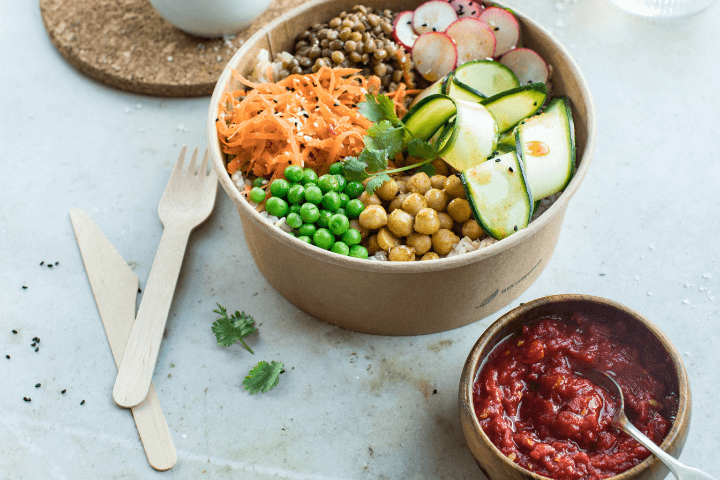 Cooking Time:

1 hour - Preheat the oven to 200°C/400°F/Gas Mark 6

Serves:

4

Allergens:

Nuts, mustard, soy
Description
A Buddha Bowl is a vegetarian (or vegan) one-bowl meal, consisting of small portions of several foods, served cold. Our Buddha Bowl has a little fire in its belly, courtesy of some Ballymaloe Fiery Relish in our peanut sauce. The beauty of the Buddha Bowl is that it easily adaptable to suit every palate and every season. It's a delicious and nutritious meal that works well with any protein alternative of your choosing, while the addition of our Classic French Dressing adds some zing and zest of its own.
Ingredients
200g puy lentils (cooked and tossed in 1 tbsp Ballymaloe Classic French Dressing)
200g carrot (grated & tossed in 2tbsp Ballymaloe Classic French Dressing)
100g toasted mixed seeds
1 tin of chickpeas (drained and dried)
Olive oil
1 tbsp curry powder
1 medium courgette (in ribbons)
8 radishes (thinly sliced)
150g cooked brown rice
For your peanut sauce:
2 tbsp Ballymaloe Fiery Relish
4 tbsp crunchy peanut butter
1 tbsp soy sauce
Juice of 1 lime
Salted peanuts & crispy onions to garnish (optional)
Method
Preheat the oven to 200°C/400°F/Gas Mark 6.
Toss the prepared chickpeas in a bowl, then pour 1 tablespoon of olive oil over them. Place on a baking tray and roast for 25 minutes.
Remove from the oven, place back in the bowl and add another tablespoon of olive oil, then sprinkle them with curry powder & some sea salt, tossing to coat.
Place back on the baking tray and bake for a further 15 minutes, then remove from the oven and allow to cool.
To make your peanut sauce, combine the Ballymaloe Fiery Relish with the soy sauce, lime juice and crunchy peanut butter. Use the back of a spoon to ensure they mix together well.
Using a big, deep bowl, use your rice as the base of your dish, as it will catch all the flavour from everything sitting on top!
In mounds, place all of the other prepared ingredients, moving in a clockwise direction: carrots, mixed seeds, crispy chickpeas, courgette ribbons, sliced radish and any other ingredients of your choice, followed by a drizzle of homemade peanut sauce.
Top with salted peanuts and crispy onions to give this tasty dish some additional texture.