Greek Pitta Conchiglie Pasta Pockets with Ballymaloe Spicy Tomato Pasta Sauce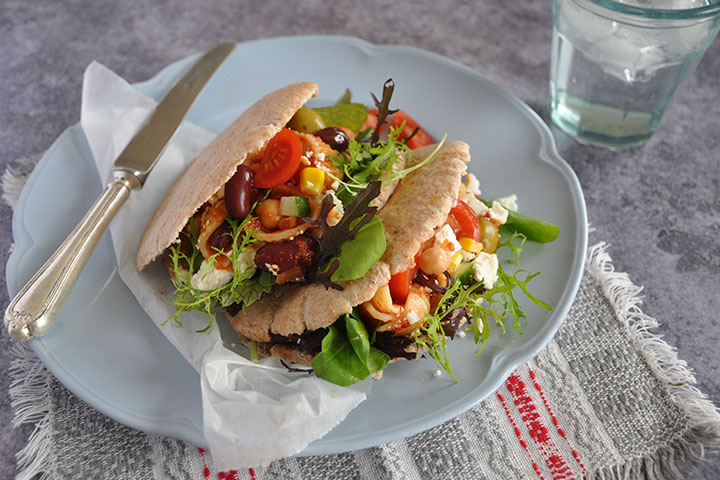 Cooking Time:

15 minutes

Serves:

4

Allergens:

Wheat, dairy
Description
Pasta and pitta pockets might sound like an unusual combination, but trust us, they're a winner –  and you'll be wondering why you've never cooked them before. Ballymaloe Spicy Tomato Pasta Sauce has a carefully-balanced blend of tomato, chillis and spices, which compliment the beans and olives in this recipe. A handy little vegetarian treat that'll surprise you, the conchiglie – or seashell pasta – is a great way to ensure you get the maximum amount of sauce you possibly can in each bite, as its cupped shape keeps the sauce in place!
Ingredients
4 wholemeal pitta pockets
100g small conchiglie shells
Ballymaloe Spicy Tomato Pasta Sauce (180g jar)
25g green olives (stoned & halved)
25g black olives (stoned & halved)
50g cucumber (diced)
8 cherry tomatoes (halved & seasoned with a sprinkle of salt, pepper & sugar)
25g chickpeas (drained)
25g kidney beans (drained)
25g sweetcorn (drained)
50g crumbled Feta
4 handfuls mixed leaves
Method
Bring a saucepan of water to the boil, then add the salt. Bring back to the boil, add the pasta and stir.
Replace the lid and cook for 4 minutes. Remove the saucepan from the heat and allow it to sit for 5 minutes. Check the pasta is cooked and then drain.
Place the olives, cucumber, chickpeas, kidney beans and sweetcorn in a bowl. Add your Ballymaloe Spicy Tomato Pasta Sauce and the pasta and give it a good stir.
Slice open a pitta pocket, then heat in the oven or toaster for a minute or two.
Take the pitta & open, stuff with leaves, spoon in the pasta filling and finish with crumbled Feta and your seasoned cherry tomatoes.