Grilled Skirt Steak and Ballymaloe Red Onion Relish Foccacia with Rocket and Tarragon Mayo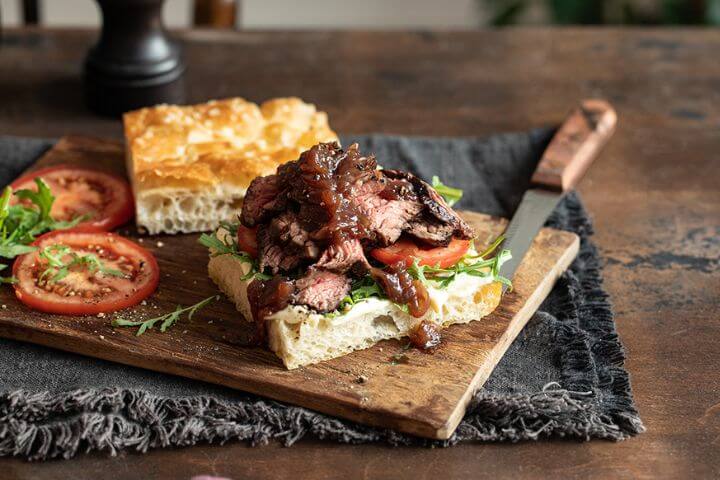 Cooking Time:

15 minutes

Serves:

1

Allergens:

gluten, eggs, mustard
Description
What a treat this funky sandwich makes, using our Ballymaloe Red Onion Relish. Skirt steak is absolutely delicious, especially paired with Ballymaloe Red Onion Relish this dish is a winner.  It is also so easy to cook and a very cost-effective meat so you are winning all round.
Add in delicious sides to make this a real feast for an evening supper. What would work well… skin on fries, breaded onion rings, crispy parmesan cauli florets, beet, and spinach slaw. You choose what you love and make this into a proper feast at home.
Ingredients
Skirt steak (cut into single servings- 4oz/ 5 oz portions)
Olive oil
Sea salt
1 tbsp of Tarragon leaves (finely chop and add to 1 tbsp Ballymaloe Mayo)
1 tbsp Ballymaloe Red Onion Relish
1 slice beef tomato
Handful of rocket
Focaccia or herb bread - single serve (3' square)
Method
Choose your best frying pan - non stick/ grill pan. Heat it until smoking.
Rub the single portion of skirt steak in a little olive oil and season with a sprinkle of sea salt and freshly cracked black pepper.
Place the seasoned skirt steak onto the smoking frying pan and cook for 4 minutes on each side. Ensure both sides are richly caramelized. Then rest on a warm plate for at least 4 minutes. Once rested, slice into strips and sprinkle with more sea salt to amplify its flavour.
Heat the focaccia by toasting or warming in a 180* oven for 7 minutes. Once toasted, split in half.
Slather the warm foccacia lid and base in rich tarragon mayo.
Pop on the sliced tomato, seasoned beef strips, a big dollop of Ballymaloe Onion Relish, and a handful of peppery rocket leaves.
Put on the lid and skewer to secure, and accompany this with a selection of your most favourite sides.